Exuma should be at the top of everyone's list. I'm shocked that I haven't made it a priority to visit sooner, especially because the majority of my Floridian friends have been countless times. I've heard beautiful stories! And now that I've proudly visited and explored some of the Exuma Islands, I can provide you with an exciting, adventurous and fun filled itinerary to the Exuma, Bahamas. Look no further for my Exuma, Bahamas Itinerary including the best spots for an unforgettable vacation.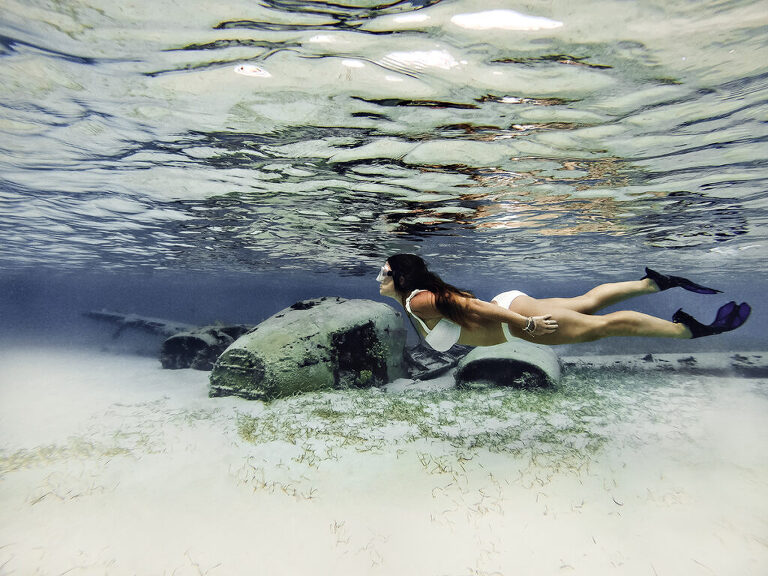 Where is Exuma?
The Exuma district is located in the Bahamas, south of Nassau. Exuma is made up of 365 islands, known as cays (pronounced "keys"). Most of the cays are uninhabited. Few are owned by celebrities and business tycoons.
Many consider the Bahamas to be apart of the Caribbean, however it does not border the Caribbean Sea. In my opinion, say what you'd like, the water is still as beautiful as the Caribbean!
When to visit Exuma?
The Bahamas is a good time ANYTIME! But there are some better times than others. Hurricane Season is June through November. If you decide to travel during this time, you'll want to consider travel insurance. With that said, we traveled in July and we were fine.
The best time to visit Exuma is December through April. This is the high season so ticket prices will be higher along with more tourists.
How to get to Exuma?
You can get to Exuma by boat or plane. Charters can bring you from Florida, Atlanta, Charlotte or other Bahamian islands, like Nassau. The fastest transportation to the Exuma islands is via plane. There are several smaller airlines like Makers Air that fly from Ft. Lauderdale or Nassau. Flights range from $250+ each way.
One note, if you plan to stay on Staniel Cay, do not fly to Georgetown. This was a big mistake we made. It ended up working out for us as we were able to jump on a tour boat but it was a bit more costly for us. More on how to get around Exuma next.
How to get around in Exuma?
If your plan is to travel around to the different islands in Exuma, you'll need to hire a charter to explore. There are options to charter a boat for several days with a home base on one of the islands or a boat in which you can stay onboard.
On the islands, each provide a few different options for travel. On Great Exuma, you will find taxis that can take you around. From the Georgetown (GGT) airport to your hotel, it's generally anywhere from $25 to $35. Traveling south of Georgetown to Barreterre, it's approximately $100 one way. On Staniel Cay, there are no rental vehicles. Your accommodations will provide a golf cart to explore the island.
Where to stay in Exuma?
As Exuma is a 100 mile stretch of islands, and many are uninhabited, hotels and resorts are more so located on certain islands. Great Exuma, Staniel Cay, Little Exuma, Fowl Cay, Musha Cay and Iguana Cay are islands that offer accommodations.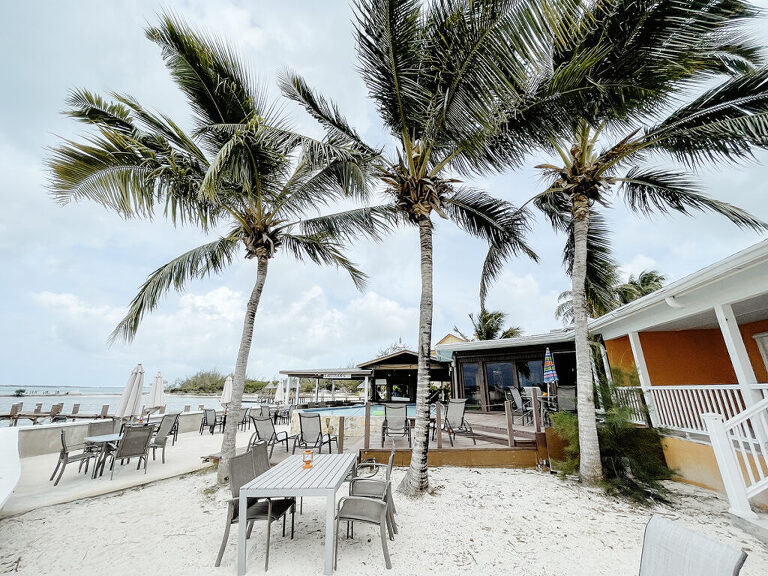 Great Exuma
Budget to Moderate – Exuma Beach Resort
Exuma Beach Resort is located south of Georgetown on the island of Great Exuma. It's a short 20 minute drive into Georgetown. Exuma Beach Resort is known for it's popular bar called Latitudes.
Luxury – Sandals
Sandals is known for its luxury accommodations. Although, I have not personally stayed here, we heard from many tourists on our tours that they loved their stay.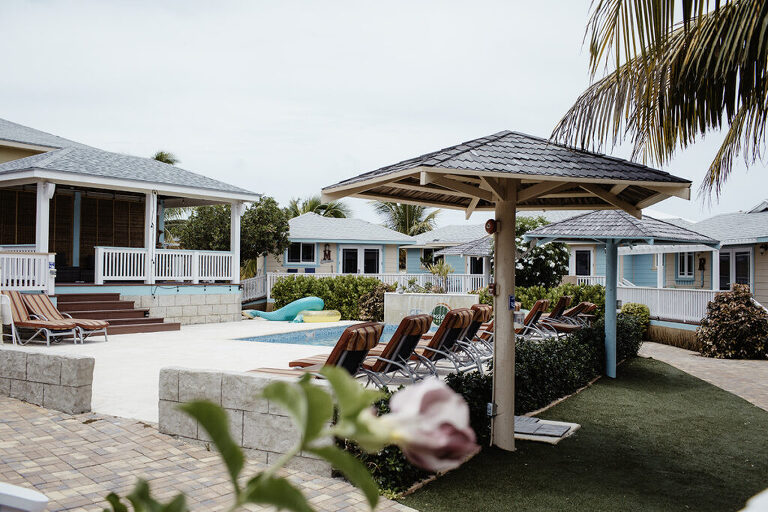 Staniel Cay
Budget to Moderate – Embrace Resort
The Embrace Resort is located on the island of Staniel Cay, a short 5 minute golf cart ride from Staniel Cay Yacht Club or directly behind the Staniel Cay airstrip. It's made up of several villas, a pool and BBQ area. Embrace has many additions coming, including a restaurant and spa.
Luxury – Staniel Cay Yacht Club Cottages
Staniel Cay Yacht Club is a staple of the Exuma islands. The cottages are lined along the waters edge next to the marina. If you're arriving by boat to Staniel Cay, you will likely see the marina as you dock. The cottages are typically booked out several months up to a year in advance.
Itinerary for Exuma Bahamas
Great Exuma Cay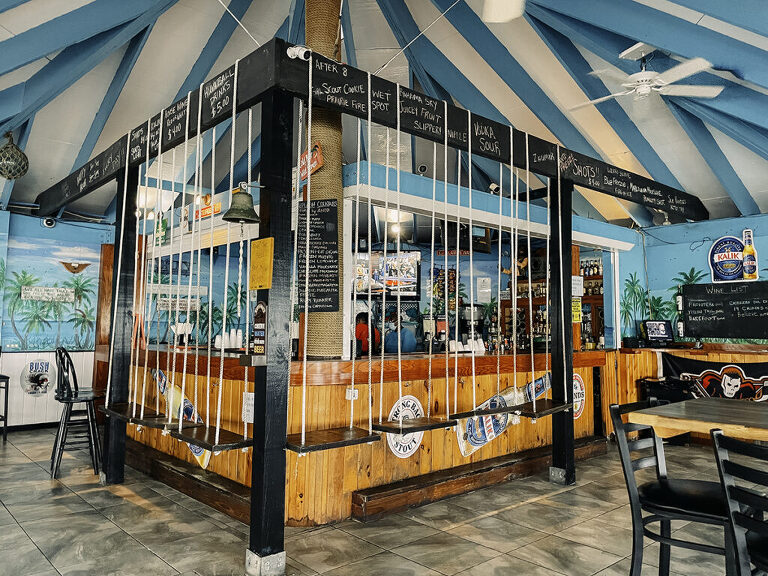 The island of Great Exuma Cay is home to the small town of Georgetown. Georgetown is an option to fly into, however, please note there is no direct flight to other islands in the Exumas. It's great to visit if you have a boat to get around the islands. While on Great Exuma Cay, take the ferry from Georgetown to Stocking Island. Stocking Island is famous for Chat n Chill Bar. It's an experience you have to have. If you are looking for fresh fish, visit the Fish Fry. It's a popular spot for locals and tourists alike. Try the Conch Salad or Conch Chowder!
---
Staniel Cay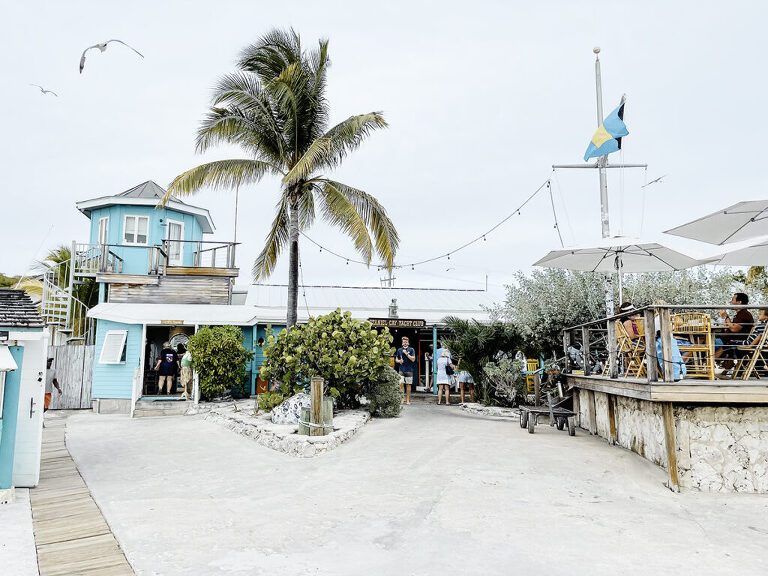 Staniel Cay is a well known, small island in Exuma. When arriving to Staniel Cay, you'll likely arrive by boat or plane. Boats are mostly docked at Staniel Cay Yacht Club Marina. There are few restaurants on the island, however Staniel Cay Yacht Club is a popular one for the tourists. All of the meals are fantastic, you'll really enjoy the atmosphere as well. Friday and Saturday nights are fun at the bar too!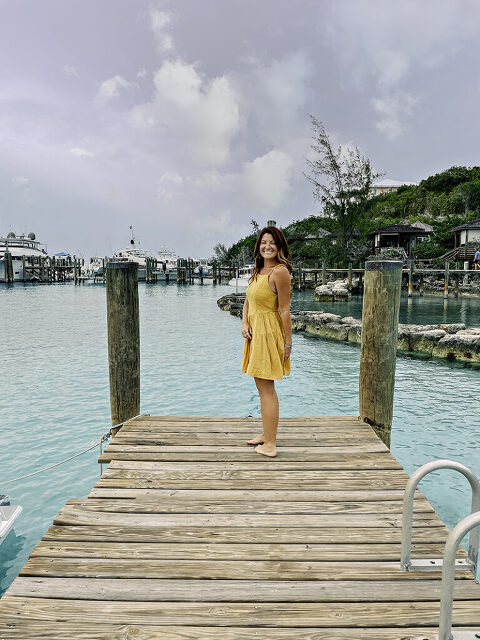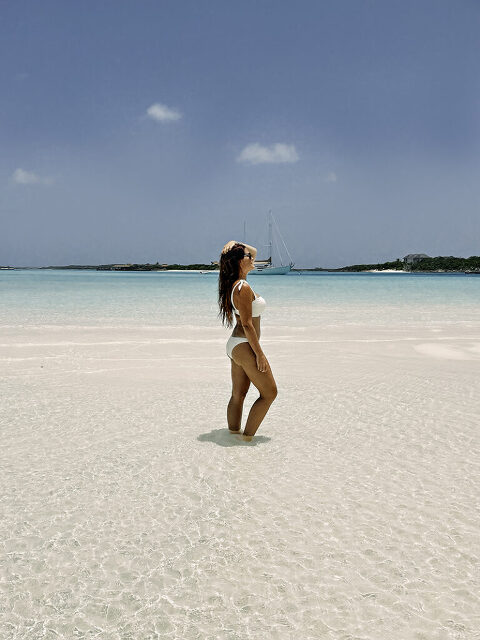 While on the island, visit some of the beaches, like Pirate Beach. If you're taking a tour or have a boat, head to Thunderball Grotto. Thunderball Grotto, otherwise known as the James Bond Cave is one not to miss! It's an impressive cave that you can swim through to experience exotic marine life, bright coral and several entrances/exits that will allow you to explore the underwater tunnels. Another spectacular highlight of Staniel Cay is the plane wreck located in the waters a short boat ride from the airport. The rumor is that the wreck crashed during the 70s, as the pilots were trying to land at night, under the radar. They missed the runway and crashed into the water, carrying drugs.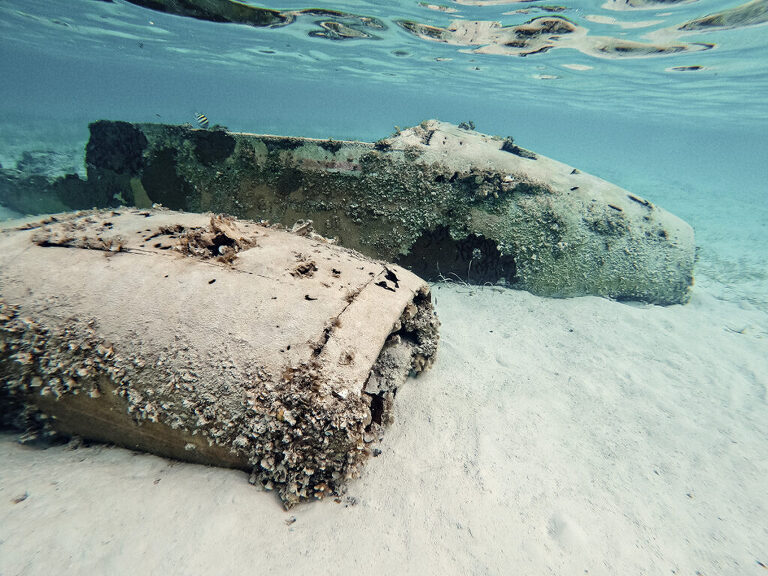 ---
Big Major Cay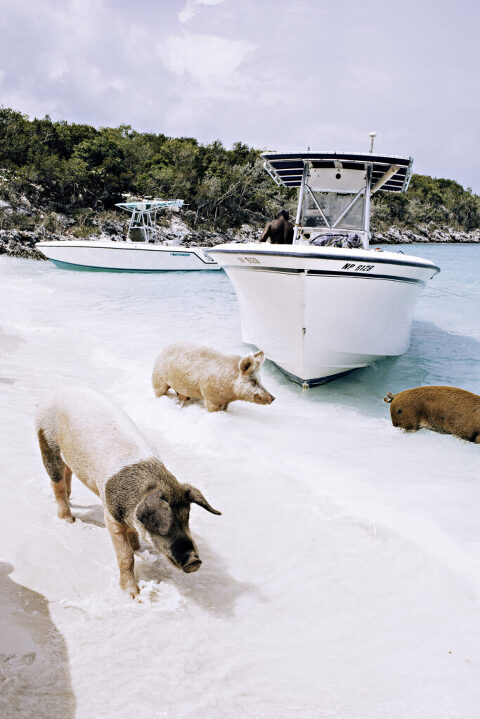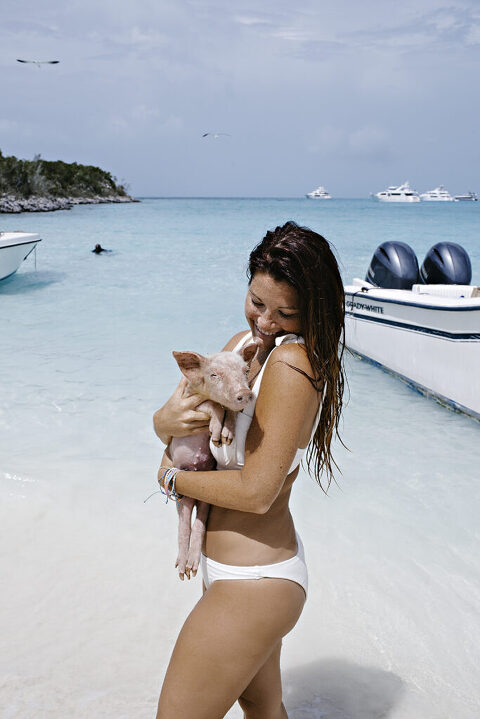 Swimming with the pigs is a highlight for anyone that comes to Exuma. Arriving to Big Major Cay, you'll likely see many other boats that have arrived to have the same experience as you. Please go with the understanding that it will be busy, however there are enough pigs that are hungry and the pigs will be interested in what you have to offer. Please be respectful of others and their experience.
If you're arriving with a boat tour, you'll be provided with a snack for the pigs. If you go on your own, bring something like bread to feed them. The pigs will approach you, whether in the water or on the beach. They are docile animals and they are use to people. Be careful when feeding them as they do have teeth. Honestly, this experience was beautiful. I saw brand new piglets, which you are not allowed to approach or hold as they are monitored and cared for by locals.
TIP: Ask your tour guide to show you Oliver. He likes to stand up when getting fed. It's quite fascinating!
---
Compass Cay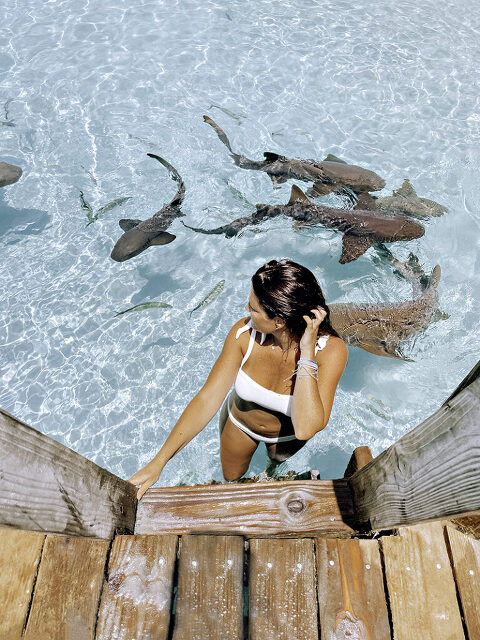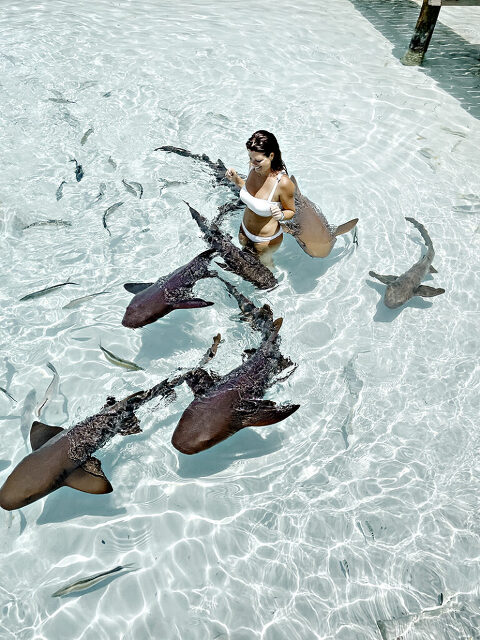 Compass Cay is where you can swim with the sharks. These are nurse sharks, which are use to human interaction. However, there are certain risks as they can bite you. I am terrified of sharks, period. Our trip up to this point, I was psyching myself up to even enter the water. I started on the dock, placing my hand on them. There weren't many on the dock at this point as many people were in the waters feeding the sharks. I entered the water when there were no nurse sharks near me. One or two would come and go but never close enough for me to be concerned.
After about 20 minutes, a large tour group left, which allowed me to experience the sharks calmly swimming around. It was then that I decided to go near a bigger group of them (5+). It was calm so I chose to swim a bit and float. When floating ball your fists if they're in the water and keep your feet up. Fingers and toes look like fish to the nurse sharks. While floating, I had several sharks come by as someone threw food near me. It took me a minute to gather the thoughts of what was about to happen but surprisingly with all the sharks that came under and beside me, I was somewhat calm. One even bumped into me! It was truly an experience I never thought I could have because of my fear. If I can do it, you can do it!
At Compass Cay, is another marina with a small shack where you can enjoy food and drinks!
Please note: professional cameras are not allowed. You can bring a GoPro or phone.
---
Leaf Cay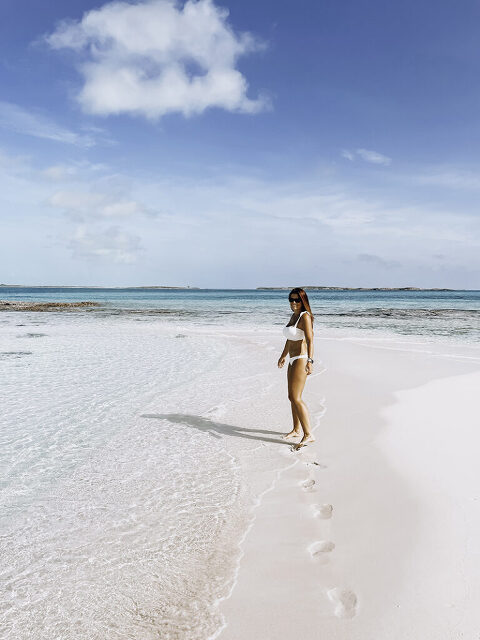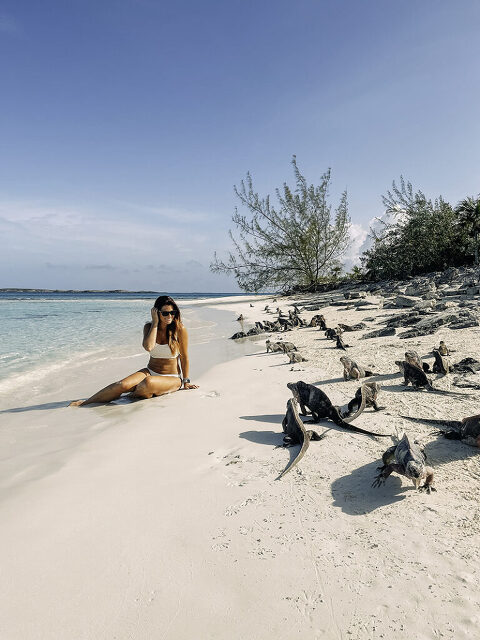 Leaf Cay used to be owned by Nicholas Cage. However, the island was deemed uninhabitable due to the rare species of iguanas that live there. These iguanas live on several islands throughout Exuma but this one may be the most popular island due to the sheer volume that occupy the beach.
When visiting Leaf Cay, come prepared with food for the iguanas. Options are cabbage, lettuce and even crackers. The iguanas are probably the experience that I had the hardest time with, in the moment. The iguanas can be aggressive so I did not get very close and they are fast! I still loved seeing this and the beach around the corner was beautiful.
---
Musha Cay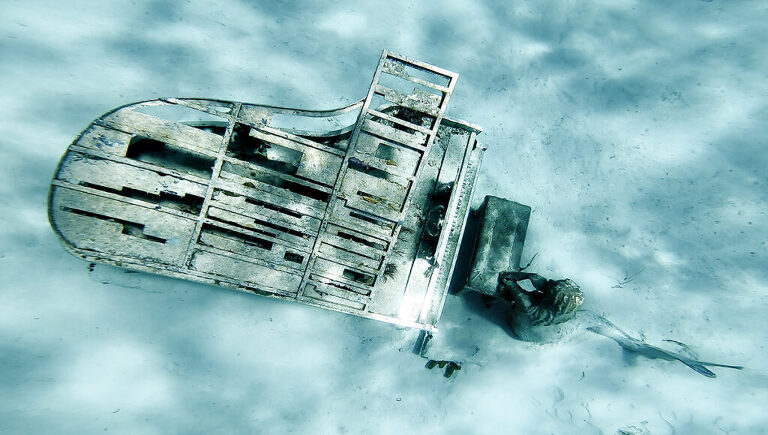 Musha Cay is owned by David Copperfield. The island and its lodging can be rented for only $365,000 a week. If you aren't renting the island, you cannot dock your boat. However, a piece of the island that you can visit is the piano that David Copperfield sunk right off the coast. If you enjoy swimming, don't miss the chance to see a mermaid playing the piano. If you have the lungs for it, try taking a seat and playing a song.
---
Norman Cay
The most infamous Exuma plane crash is the large Pablo Escobar plane off the coast of Norman Cay. You've likely seen an aerial view of the plane. Take a dive and swim through the plane to discover fish and coral that have made the plane their new home.
I have frequented the Bahamas more times than I can count. (Literally, more times than I can count.) I'm pretty sure I filled out the form entering the Bahamas incorrectly because I said 4 times but I've been to Nassau at least 5 times by cruiseship. However, being that I live in Florida and the Bahamas are an easy hop, skip and jump away, I can finally say I flew into the Bahamas this time around. The Exumas surpassed my expectations and I can gladly say that I can't wait to return.
PIN ME