Most of our skiing & snowboarding trips to date have been on the East Coast of the US, but we felt like it was time to step up our game and explore somewhere new, so we picked Breckenridge, Colorado! Since this was our first time visiting Colorado, we wanted to make the most of our trip, so we also planned to spend a few days in Denver. Colorado has some of the best skiing in North America! Keep an eye out for a future post about our adventures in Denver.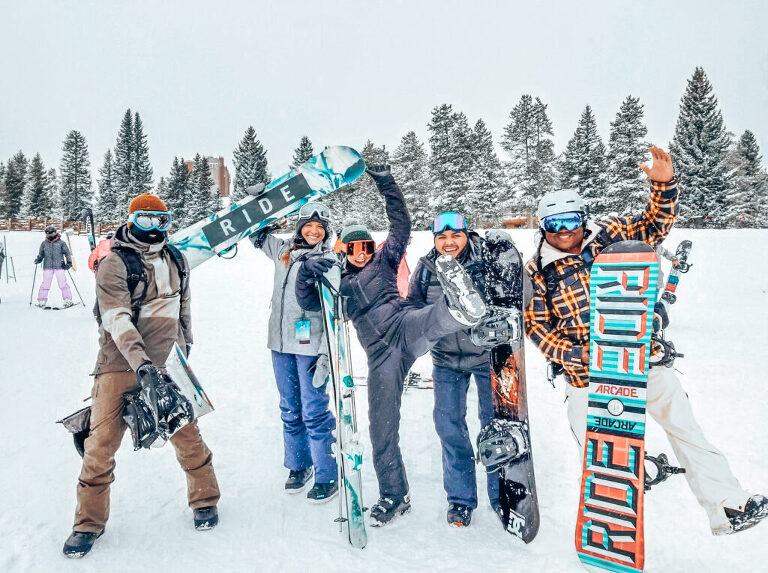 Closet Airport to Breckenridge
There are no airports close to Breckenridge, so when you arrive in Colorado you will need to make the drive to the mountain. You have the option of flying into 3 airports: Denver International Airport (DEN), Eagle County Regional Airport (EGE), or Colorado Springs Airport (COS). We chose to fly in and out of the Denver International Airport. From where we live in Florida, we found that this airport offered the best flight schedules and prices for us. It was convenient too, since we wanted to spend a couple days in Denver at the end of our trip.
Shuttle to Breckenridge
When we arrived in Denver, we took the Summit Express Shuttle to Breckenridge. This worked out really great! For one thing, it's pretty inexpensive, only about $69/pp each way to and from the airport. Secondly, there was plenty of room for all of our luggage, including 3 snowboards, and it gave us the opportunity to rest, relax and enjoy the scenery during the 2 hour drive. If you aren't used to driving in the snow or on a snowy mountainside, this might be a great option for you. Once in Breckenridge, we were so close to everything that we didn't need a car to get around, everything in town was pretty walkable. There are also free bus & trolley services that run all day long, and of course shared ride services like Uber & Lyft if you wanted to venture out to any of the surrounding towns like Frisco or Keystone.
---
TIP
Most of the lodging locations in Breckenridge have discount codes with the shuttle services, so be sure to ask your accommodations contact when booking your stay.
---
Lodging in Breckenridge
About 30 minutes into our drive out to Breckenridge, the snow started, and by the time we got there, we were standing in about 3-5″ of snow! It was lovely, everything was blanketed in white and we were really excited to have some fresh powder on the mountain. We checked into our Condo, Alpen Rose on French Street, and then we took the rest of our day and the next day to explore around town, check out some of the local shops, get my ski rentals (I'm the only skier in the group), get groceries for the condo, and acclimate to the altitude change. Yes, altitude sickness is real (just ask my husband). You can read more about it here, and check out our post on "How to Prepare for Breckenridge" that talks about what you can do ahead of time to help avoid it.
On day 3 we hit the slopes. If you are like me and need rentals, check out Christy's Sports. They are well known and have several convenient slope side locations. They will also check/hold your equipment there during the days you have rented for free. I used this service a couple times so that I wouldn't have to walk back to the condo or on the bus with my skis and poles, which was very convenient. I just dropped them off, got a claim ticket (like a coat check), and walked in the next morning with my ticket to pick them back up.
---
TIP
Book your rentals 24 hours in advance on Christy's website, and you can save up to 20% off walk-in rates.
---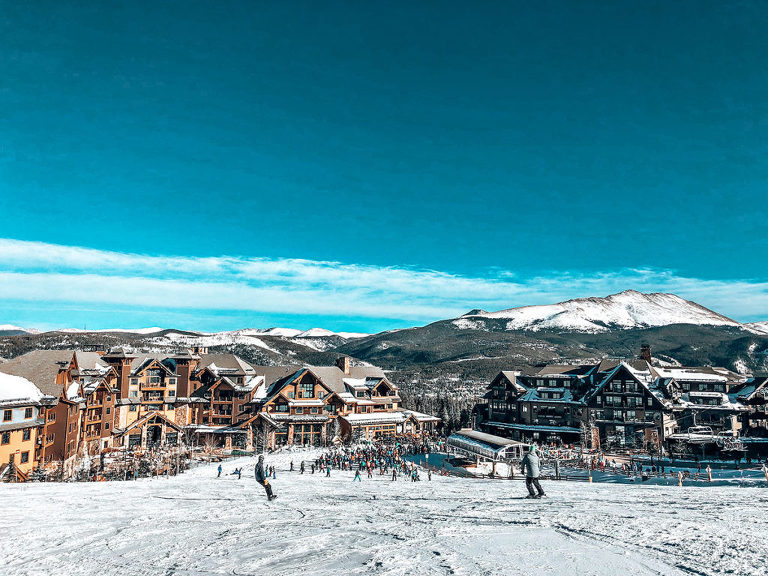 Now when it comes to where you will want to start on the mountain, your skill level is definitely going to be a factor. (Check here to view Breck's trail map) Our favorite peak, by far, was Peak 7. Here's why: 1. Less crowded. We found Peak 7 to be much less crowded than Peaks 8 & 9, and they have a 6 person lift to the top which keeps things moving pretty quickly. 2. The Lodges. There is a lodge at the top and bottom of Peak 7, and between the two, there is something for everyone. We ate at Sevens Restaurant inside the Grand Lodge, and it was delicious. We also had a friend along who wasn't too keen on boarding, so she opted for a spa day in the Grand Lodge and loved it! (we were a little jealous actually) 3. The runs. Our group normally sticks to Blue runs, and Peak 7 has some really fun ones, Wirepatch & Monte Cristo being 2 of our favorites.  4. The BreckConnect Gondola. This is a great way to travel up and down the mountain. It's free and very convenient. When you are done skiing or snowboarding for the day, you can ride all the way down the slope, almost right up to the entrance of the Gondola and head down to Breckenridge Station where you can catch a free bus or trolley to go to your hotel or condo. Check here to view the routes and schedules of the Breckenridge Free Ride buses and trolleys.
We also found a little hidden gem (or at least what felt like one because we had the place to ourselves) at Horizon Hut on Peak 6. There isn't any food service here, but this is a great place to stop in for a bio break or to charge up your cell phone at their charging station. We packed a lunch one day and enjoyed it in the Horizon Hut, while taking in some awesome mountain views.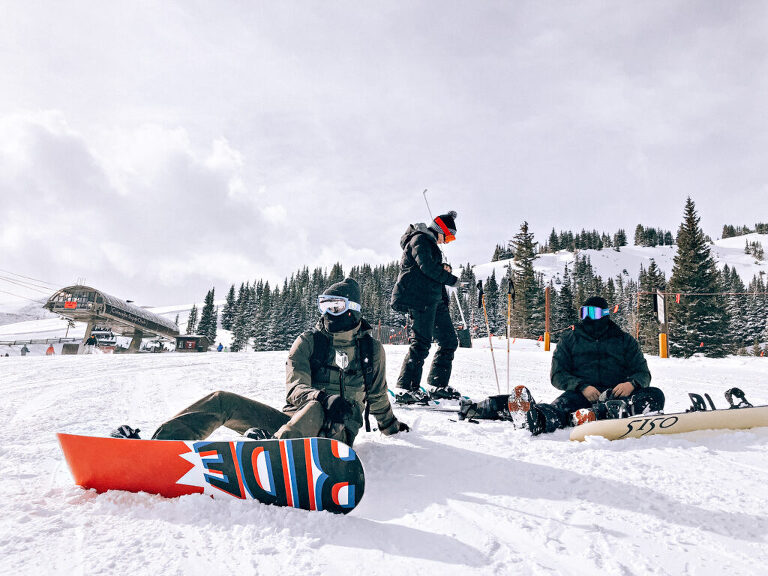 ---
TIP
Check the Ski Lift & Terrain Status Report on Breckenridge's website before heading out to see which lifts and runs are open and groomed each day.
---
Besides the skiing and boarding we had some good times and great eats in town! In my next post I'll tell you about some of our favorite local spots from this trip, and some others that came highly recommended (sadly there just weren't enough days to try them all). If you need help planning a Colorado Ski trip, we've written an article all about it.
Until then, take care everyone!
Dani
PIN ME!