We are the type of travelers that can have a list of places and items to do when we arrive into a city, get off the plane and knock them out quickly. If you don't like that type of travel, then add on a few days onto this list of must see places in Marrakech and get lost in the maze of souks. Believe me, it's easy to do! Look no further if you need a 48 hours or 2 days travel list in Marrakech.
---
SAFETY TIP
Make sure you have a plan and don't always trust someone giving you directions. Many young men point you in the direction of a place that they will receive a commission. 
---
Marrakesh, found within the continent of Africa, is a large city divided into two parts , Old Marrakech and New Marrakech. New Marrakech is a little more of a French style appeal. Try to visit both if you have the chance. Also, you will notice me interchange the spellings of Marrakesh, this is because there are two ways to spell it. That'll never get old, but you will get confused sometimes.
Stay
With a little over 48 hours in Marrakesh, we didn't need to move around but there are many options for every budget. 
Riad Ambre & Epices
We stayed at Riad Ambre & Epices. A quaint Riad in the heart of Palmeraie. Late at night and early in the morning, the area is patrolled by a Security Guard and the doors are locked in case you're looking for more security.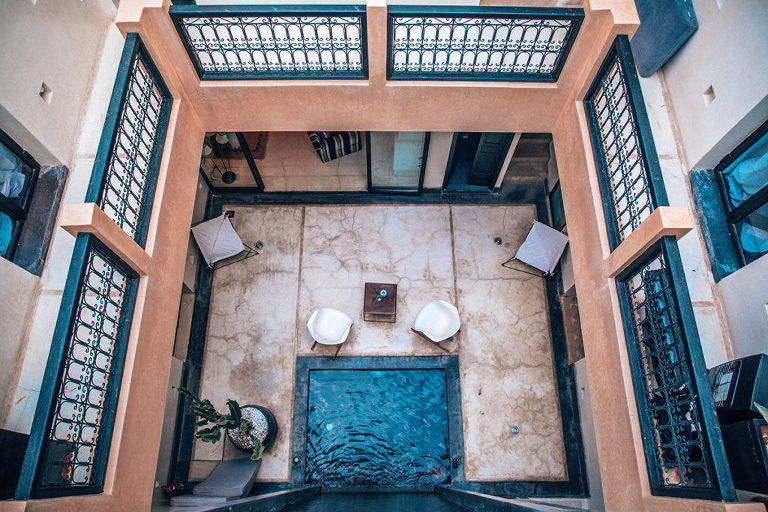 This quaint Riad, boasts 12 private suites with a small pool and rooftop terrace. You can enjoy your breakfast, lunch or dinner by the pool or up on the terrace. When you arrive, you're greeted with mint tea and cookies. They're delicious! We ended up ordering them later because of how much we enjoyed them. (And honestly, I'm wishing I brought some home with me too.)
Breakfast is included in your stay and lunch and dinner can be ordered with advanced noticed. Everything we had was delicious and was plenty to eat. One of our favorites was the Mixed Samosas. There is a sauce with the samosas that we would have loved to bring back with us. We had these with every meal by choice! Every main entree we had served in the tagine fell off the bone, the meat was very tender. Dinner at the Riad was a great choice when we were exhausted from our day out in the Souks. 
Explore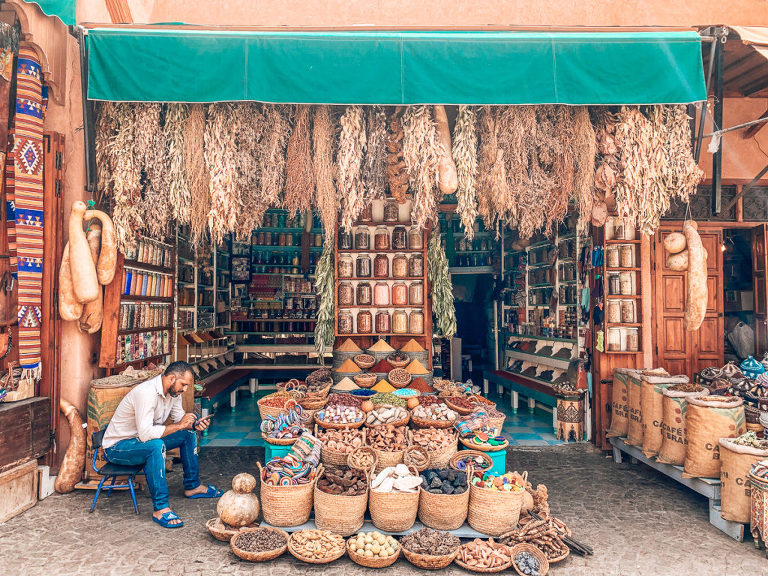 Souks
Decide beforehand what's important to purchase in the Souks. You can purchase rugs, leather goods, shoes, spices, tagine (real and decorative), weaved blankets, etc. The choices are endless but believe me when I say, have a plan because it can become overwhelming with all the choices. And if you're looking for prices you'd pay in the Souks, check out this great guide.
---
TIP
The orange clay tagine are the ones you can use for cooking. You cannot use a decorative tagine for cooking. 
---
Visit the Jemaa el-Fnaa Square
I recommend purchasing from the Souks rather than the booths at the Square as you can negotiate better pricing and have your pick of goods. The square has women offering Henna tattoos, snake charmers, monkey trainers, juice stalls, as well as different goods.  
---
TIP
Beware of pickpockets, any group gatherings to watch performers is the perfect time for it to happen. Also, do not accept any kind gift or offer to take a photo as a generous tip will be expected. Snake charmers and monkey trainers will put them on you so make sure you make it clear you aren't interested or expect to pay. 
---
Visit Palais Namaskar
Enjoy a breakfast or lunch at Palais Namaskar out by the pool. A pool day pass is also available for purchase at around 55 Euros. Great if you'd like to escape the city center and enjoy some relaxation time!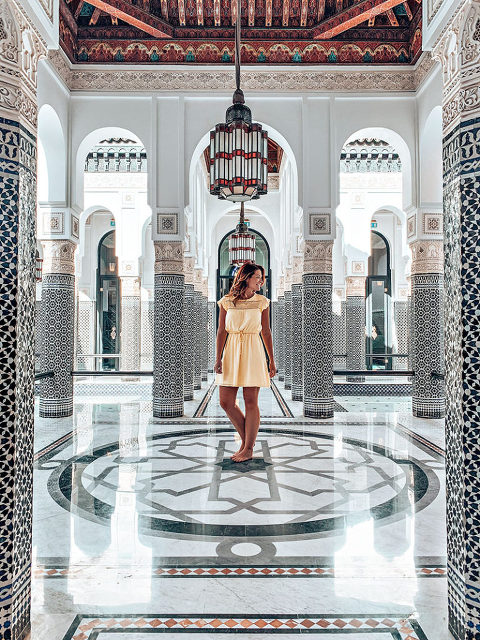 Visit La Mamounia
This was an unexpected treat. Beautiful gardens in the middle of Marrakesh. You can enter as a guest so you won't need a room reservation. There are options with advanced reservations to use the Spa and pools. If you have the chance, I highly recommend it. Explore the gardens, get a day pool pass and have mint tea. Yum!
---
TIP
You will be expected to leave any bags with security upon entering, including water bottles. You may take your camera with you.
---
Ben Youssef Madrasa
Unfortunately we did not get to visit due to reconstruction/ temporary closing, but I had done plenty of research to know I was very interested in visiting. I was slightly hoping it would open if even for a few moments for me to see it quickly but sadly it was not. It's to open back up by end of 2019. The Ben Youssef Madrasa is an old theological college but today is a well visited historical site. The intricate designs are enough to bring visitors from far and wide to see the madrasa.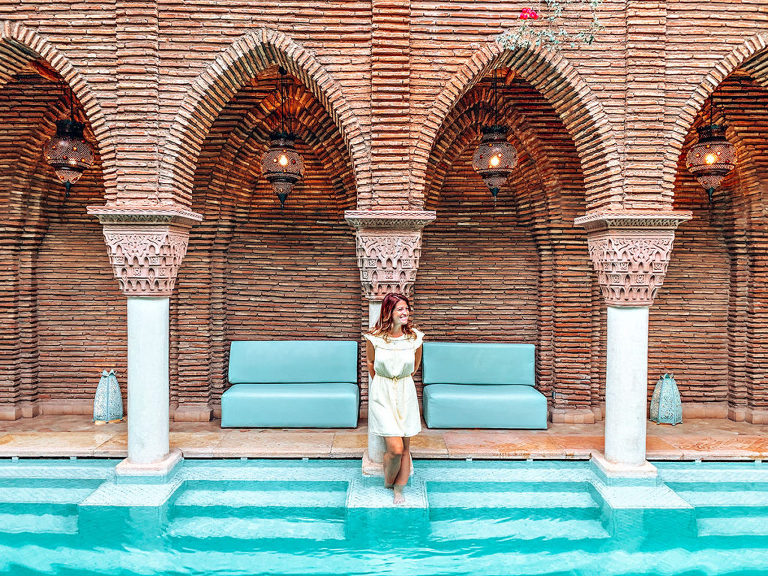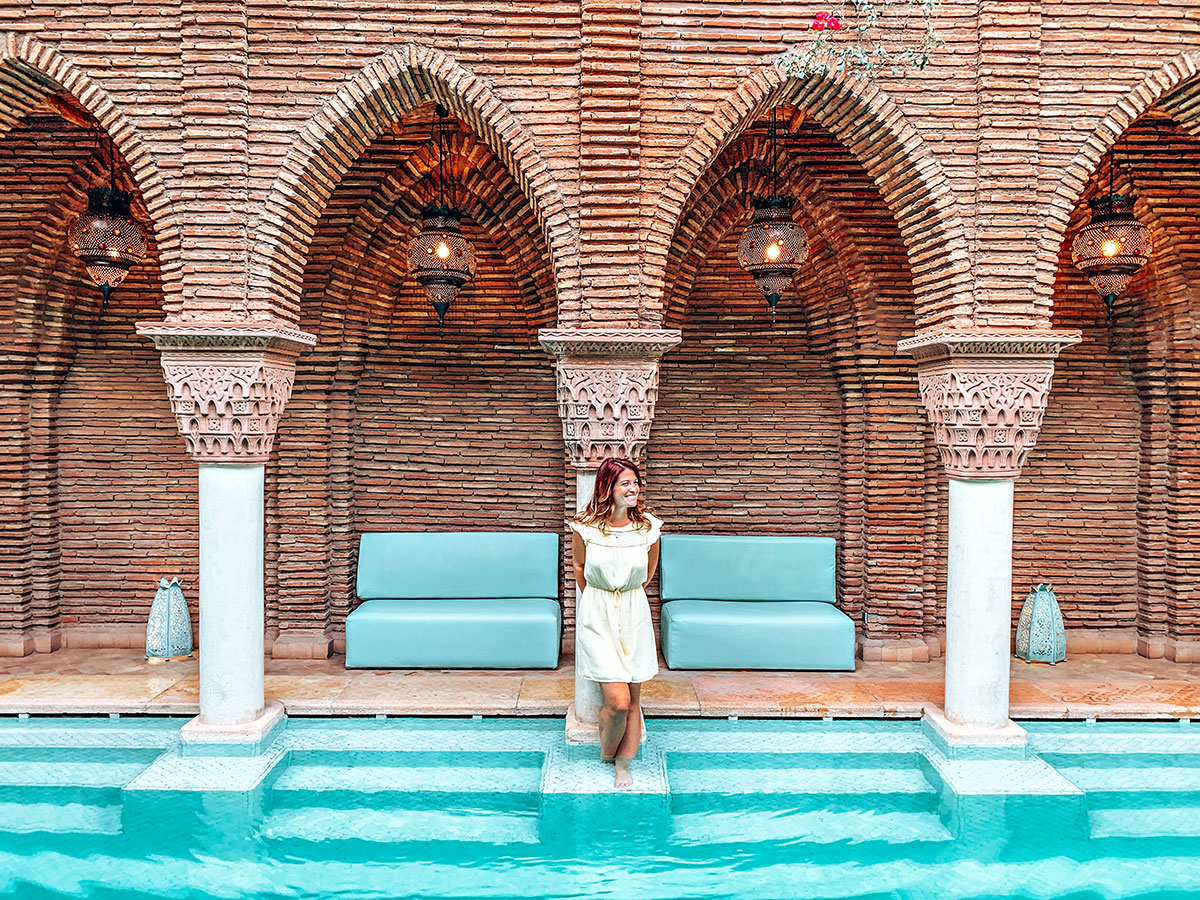 Visit La Sultana
This Riad offers two restaurants and a rooftop terrace for guests to visit. It gets a bit hot but the misters on the terrace provide some relief during the hot days along with a nice breeze. La Sultana is located in New Marrakesh so you'll get to experience the French influence of Marrakech!
---
ALCOHOL
Many restaurants and Riads do not offer alcohol, La Sultana has an array of alcoholic beverages to choose from if you're looking for that. 
---
Bahia Palace
Visit one of Marrakech palace! You can visit the gardens, see the beautiful tiled fireplaces, walls and floors as well as stained glass windows. It's a great testament to the beauty of Marrakech design.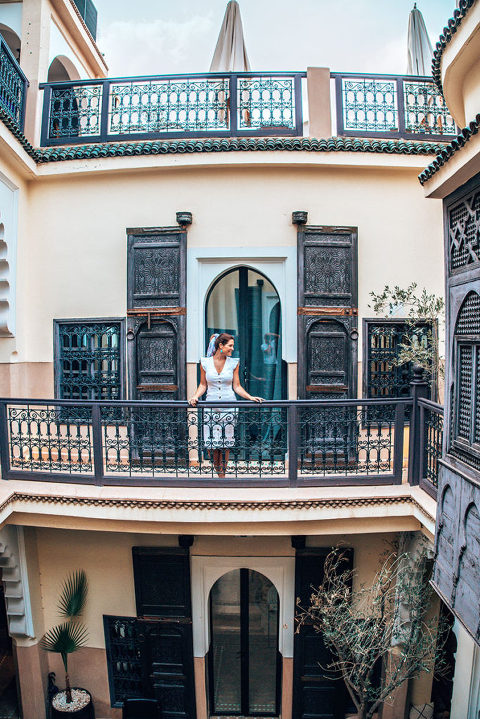 Visit other Riads
There are many Riads that offer restaurants and beautiful settings for some photos, and rooftop terraces to enjoy tea and sunset. We enjoyed Riad Berbere and Riad Yasmin.
---
Visiting Riads Tip
Call ahead to make sure you're allowed to visit the day you're planning. It can take some planning to locate the Riads and you won't want to arrive and not be able to enter. Lesson learned here! 
Eat
La Sultana
We enjoyed the tapas on the rooftop terrace which were an array of different appetizers that they offered on their full menu. King Prawns, Samosas, Salmon Crostini, etc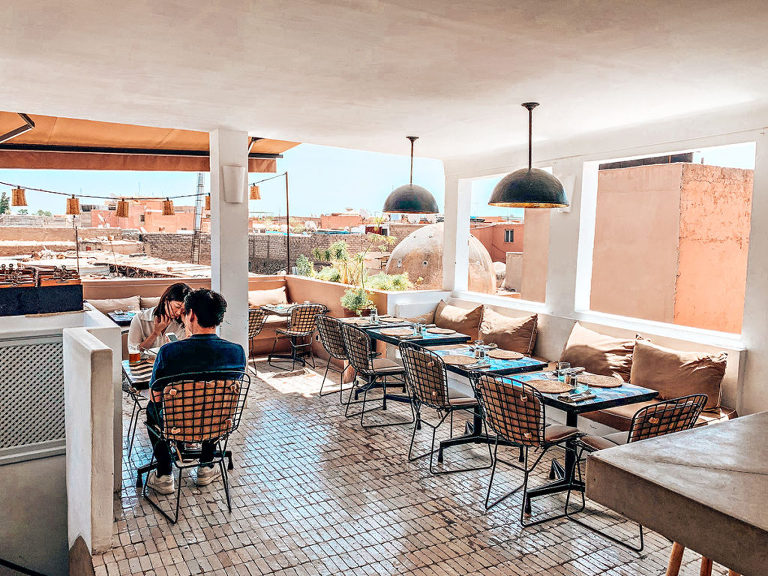 Nomad
This restaurant makes me think "Marrakech meets Tulum". Enjoy a selection of different meals including vegetarian options. The restaurant has options to sit inside or sit on the rooftop overlooking a square where you can people watch those negotiating in the nearby Souks.  
Although we didn't get to experience every corner of Marrakesh, we really enjoyed the 48 hours we had. We were able to explore a bit and also enjoy some relaxation at some of the best hotels Marrakesh has to offer. Like I said, if you have more than 2 days in Marrakesh, take more time to get lost in the Souks, as there are plenty! Also, add more relaxation time at your Riad or by one of the many pools that hotels offer.
Till next time guys!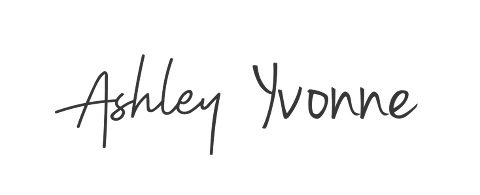 PIN ME!