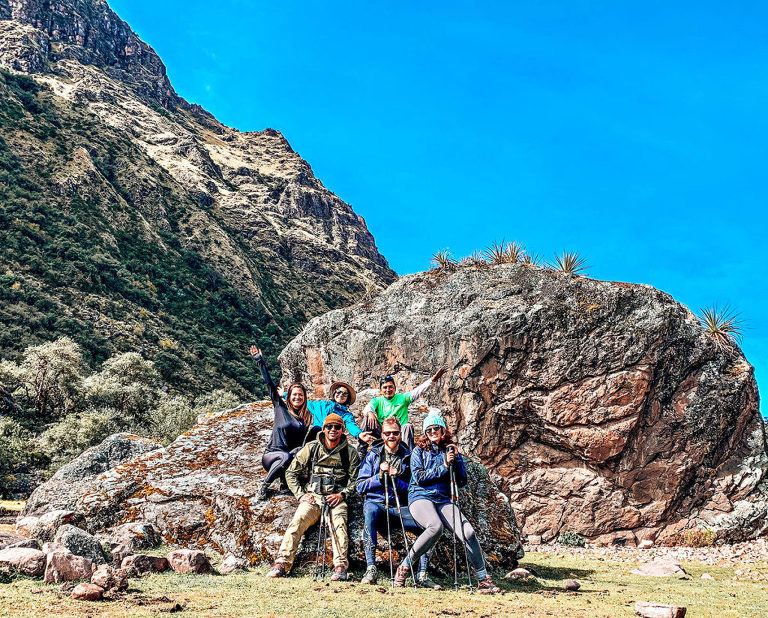 Day three started off much like the other days, which you can find in our earlier Lares Trek to Machu Picchu posts. Beautiful views of the Andes Mountain waiting for us right outside our tents on our Lares Trek.
We joined our team around the table to feast on Omelettes, Toast with Butter and Jam, Porridge and a special surprise! The chef made us a special cake to celebrate our trek to Machu Picchu. It was a chocolate cake with white icing and pink piping. (Yes, he made a cake in a pot and also piped the cake!) It said Welcome to Machu Picchu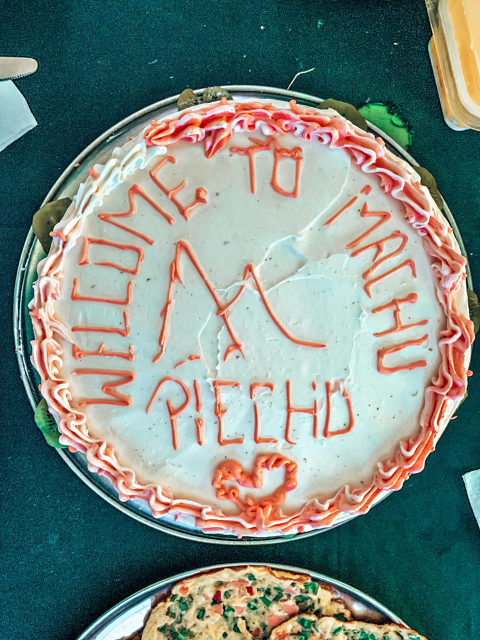 Breakfast felt bittersweet as we knew we were descending upon our final hours of the Lares Trek. However, before we began our final descent into the town of Huanan, we visited a local family in the village we stayed in the previous evening. 
As soon as we walked around the corner, a little boy rain up laughing and giggling. We stopped at the gate of where a pack of alpaca's were being held and the little boy ran and climbed under the gate to get into the area with the alpaca's. We were shown the difference in the animals that the local families raise and what they use them for. Alpaca's can carry up to 20 kg of weight so they typically assist in carrying goods. Their fur is also used to make clothing.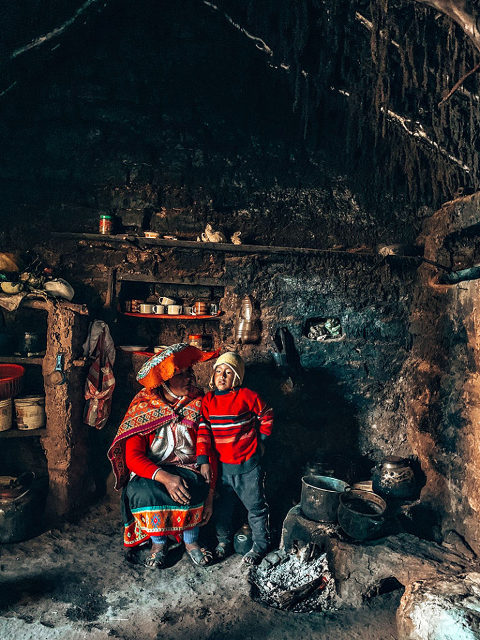 We were invited into the little boy's home with his mom to see what a local Peruvian home is like. This home was built over 30 years ago and only 3 years ago, they received electricity. The bed, living room and kitchen area were all in one room, along with about 22 guinea pigs roaming around. Guinea pig is popular here for the families as they feast on a guinea pig for special occasions.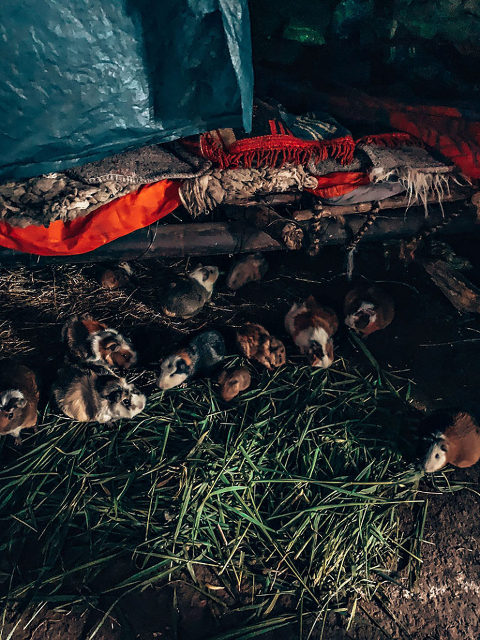 If you remember the gifts we purchased at the Peruvian Market on Day One, this is where we gave the family the Coca leaves, sugar and toothpaste to the family as a thank you for inviting us into their home. The mother and son speak quechua and it was translated to us that Coca leaves are like bread to them. The adults chew on them all day when they are in the fields to give them energy. 
We said our goodbyes to the family with hugs and continued on our descent. It was about 4 hours into the town of Huanan. What another beautiful and rewarding hike. We were happy to not climb any more heights and the water stream/river running beside us was welcoming. It made for a beautiful site for plenty of photos. We were greeted along our walk by many alpaca's, llamas, pigs and dogs. Let me tell ya, thank goodness for this descent!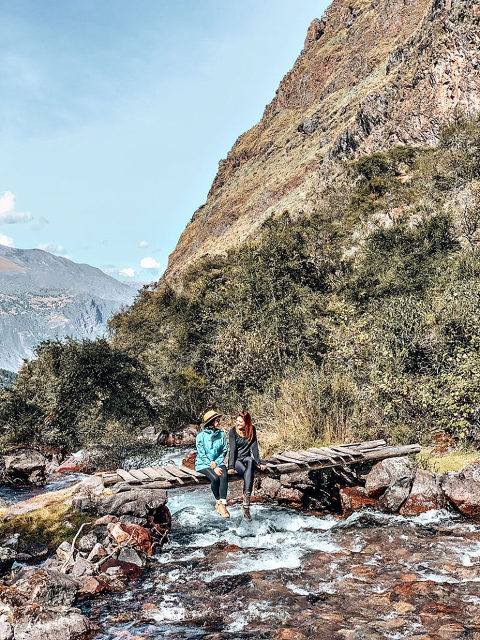 Upon our arrival to Huanan, Peru we ate lunch prepared by our cooks for one final meal. Delicious as always and very exciting that we could be apart of such a beautiful trek.
This evening we were to spend the night in Aguas Calientes so we made our way and stopped off at the Mara Salt Mines. These Salt Mines are each owned by local families, which own 10+ plots each. There are over 3,000 plots in total. You'll notice that the plots vary in color. The color depends on the phase of extracting the salt. The darker the salt, the higher the impurities. The salt isn't thrown out, it's simply used for a different purpose than table salt.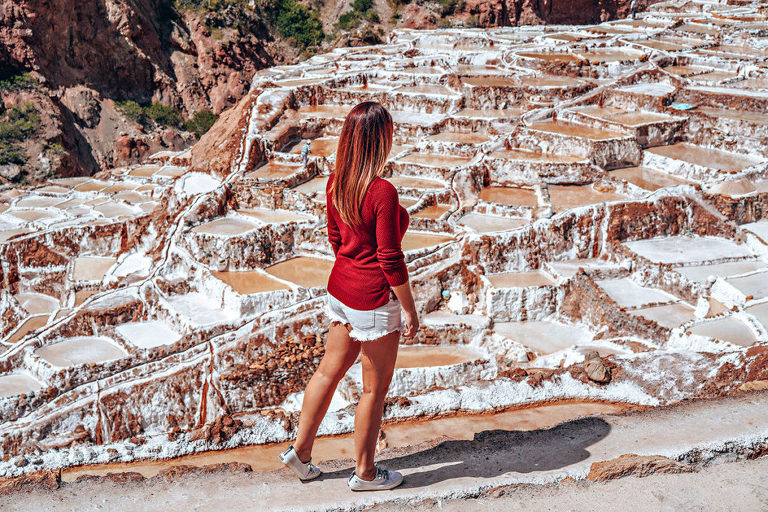 After the Salt Mines, we stopped at a local home to see how Chicha de Jora drink was made. Chicha de Jora is a Peruvian beer from the Inca times. The Chicha de Jora is made of Jora corn. There was a regular flavor, which was a bit more bitter and another that had crushed strawberries to make it more sweet. Both were delicious, we were able to taste the drink but then make a donation for a full glass.
One more stop took us to the town of Ollantaytambo. We had a few hours to explore the town, visit a few of the markets and get some photos. I would highly recommend taking some time to come back here to explore. There is an archeological site here that is definitely worth the visit. Dinner was arranged by our guide. From here, we took the train to Aguas Calientes.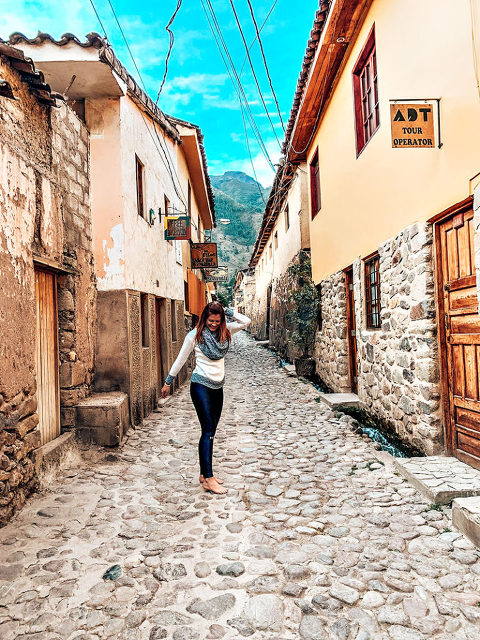 We ended our tour this day in Aguas Calientes, where we stayed for the evening. Our accommodations were arranged by Alpaca Expeditions and were directly in this small South American town. The town of Aguas Calientes was beautiful and busy with tourists waiting to see Machu Picchu. We were absolutely exhausted, happy for a hot shower and ready for sleep!
If you plan to visit Peru, be sure to learn from our mistakes and read why we almost didn't make it to Peru.
Till next time guys!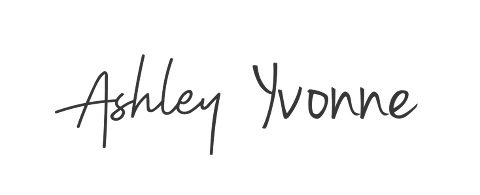 PIN ME!