Disclosure: As an Amazon Associate we earn from qualifying purchases. We only recommend products that we personally use and love, or think our readers will find useful.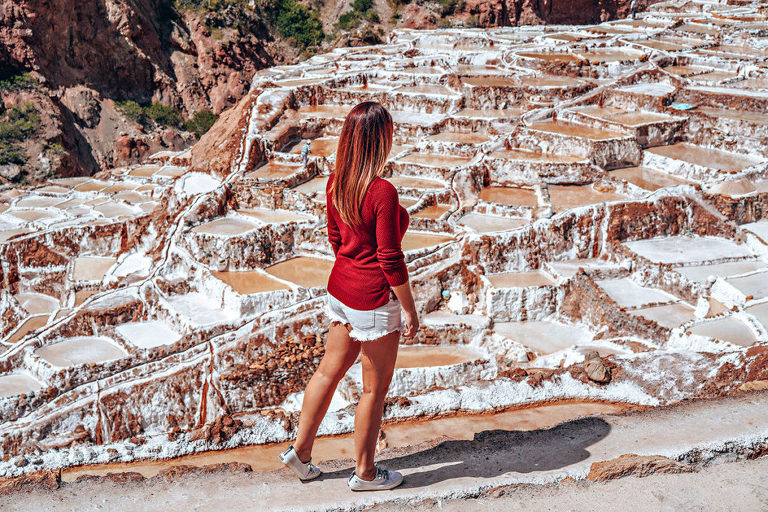 This is probably one of the topics that we researched most before our Peru trip. We have done some primitive backpacking & camping, so when we first booked our 4 Day / 3 Night Lares Trek to Machu Picchu, we had an idea of what we needed to pack, but this kind of hike was definitely a first for us. We wanted to make sure we were packing all of the necessities and avoiding unnecessary items, because when it comes to hiking at high altitudes, less is definitely more!
Because we booked our hike with a local tour company, there were a few things to consider: What was needed, what the company provided, what we needed to provide, & how it would all be packed/carried on the trip.
Alpaca Expeditions provided a very comprehensive list of recommended items to pack for this trek on their website, which was super helpful and a great starting point! To that, we added in a few more items from our personal experience to come up with our list that we would recommend to anyone making this trek.
Remember, when you book with a tour company, many of these items may be included as part of your tour or available to rent, so be sure to find out what's included when you book. Here's what Alpaca Expeditions provided for us. We noted which items we rented for a small fee, and take it from us, it was well worth it. We highly recommend these items, whether you rent them or bring them yourself.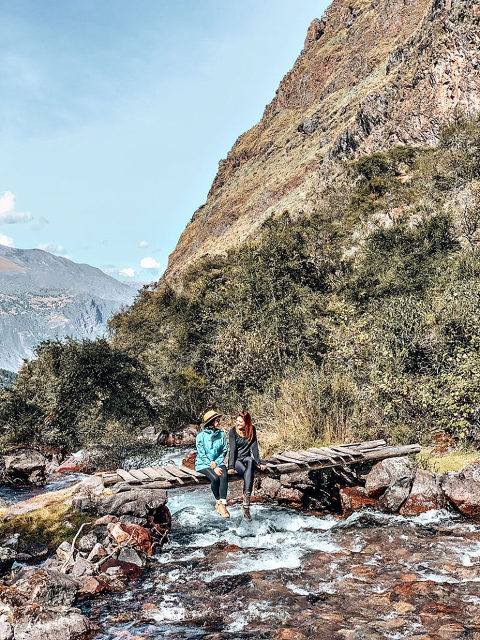 Items provided by Alpaca Expeditions:
Tent
Sleeping Bag rated for -10C at least (RENTED)
Sleeping Pad (RENTED)
Warm Blanket
Pillow
Duffel Bag
Waterproof Backpack Cover
Rain Poncho
Walking Sticks (RENTED)
Drinking Water
Food
Cups, Plates & Utensils
Table & Chairs
That left us responsible for our daypacks, clothing, toiletries, basic first aid supplies, camera equipment, a means for carrying water each day, and something small to snack on between meals, like our Real Food Bars.
We had 2 Bags to carry all of this in: Our duffel bag provided by Alpaca Expeditions, and our personal day pack. Our duffel bags were carried each day by the porters, so we only had access to them in the morning before we started our day's hike, and once we made it to the next camp. In our list below we have indicated what items we wore or carried in our day packs each day, with an asterisk " * " next to them. All other items were packed into our duffel bags. We have also included links to some items available online that we took with us on our hike, and would recommend, if you're shopping around.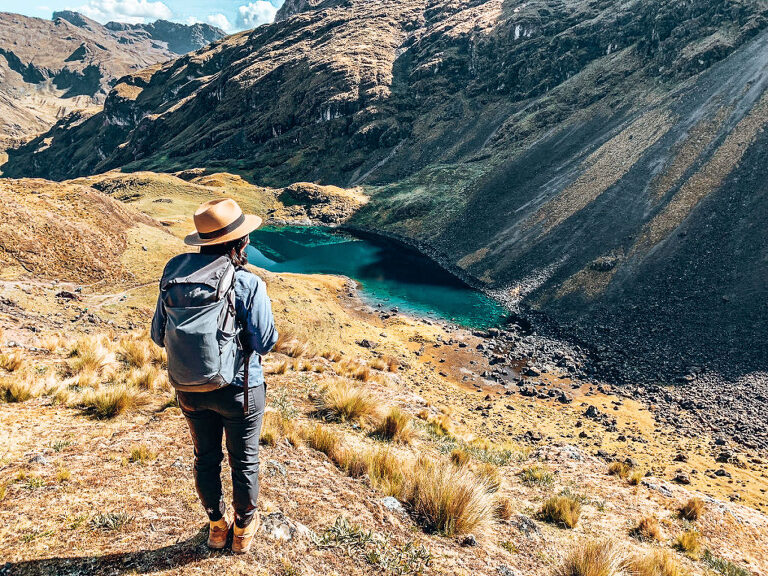 Documents, Etc.
Passport*
Valid Student Card (if you booked as a student)*
Immigration Card (given on the plane as you enter Peru)*
Extra Money for Souvenirs, Drinks & Tips*
Your documents, most importantly your passport, will be required for your train & bus travel, and entrance into Machu Picchu. If your tour is like ours, you may also be stopping at a village, or school along the way to visit with the locals. We stopped at a market when we began our tour to buy food, supplies & gifts for the local families & kids. There were also some opportunities to purchase hand-made goods along the way, so be sure to bring some extra cash incase you decide you need another alpaca hat or sweater. (seriously, sometimes they are just too good to pass up..hah)
Clothes
Bathing Suit (for hot springs)
2 wicking t-shirts or long sleeve shirts
2 hiking pants/leggings
Pajamas
4 sets of underwear
1 fleece or light jacket *
Warm, down jacket
Sun hat *
Wool hat *
Waterproof gloves *
Waterproof jacket / Rain poncho *
Sunglasses *
We debated about bringing shorts, but in the end we were happy with our hiking pants and leggings. The temperatures are very cold in the morning, and although they warm up throughout the day, it's also important to keep your skin protected from the sun and mosquitos. So, bring layers that are light and wick away moisture to keep you cool, dry and protected. We didn't face much rain, but it's definitely something you want to be prepared for, so pack at least one water resistant outfit that you can throw a waterproof jacket or poncho over, if needed. Regarding PJs, this one is really up to you. Personally, I brought some base layers to wear at night and found it nice to change out of my hiking clothes into something new to sleep in, but it's definitely something you could skip if you're trying to save space and are comfortable sleeping in your hiking gear.
Toiletries & Grooming
Small soap or face wash
Deodorant
Face moisturizer
Sunscreen*
Hand sanitizer*
Toothbrush & toothpaste
Toiletpaper / Tissues
Chapstick*
Hair Ties*
Personal wash basins with warm water, soap, and a wash cloth were provided each morning to start your day, and later with cool water to clean your hands before meals. Hand sanitizer was also available at camp. So we just recommend bringing small amounts of the items listed above that you can keep on you incase you need these items during your hike, or if you need a specific product for your skin. A roll of toilet paper was provided in the porta-potty that was set up at camp each day, but since you'll be a few days without a real shower, wet wipes come highly recommended. They aren't just for babies anymore you know! Hah.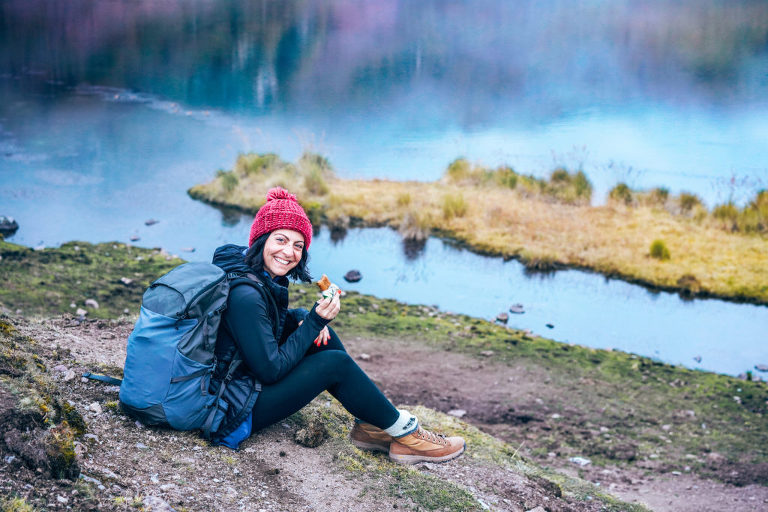 Snacks/Supplements
Snacks (protein bars, jerky, trail mix, etc.)*
Altitude sickness at these heights is REAL, so it's important to stay hydrated. We also always carry an immune booster like Emergen-c or Airborne when we are traveling just to give ourselves an extra dose of vitamins to help avoid getting sick. Remember, you will be sleeping outside in very cold temperatures, waking up early, and working yourself hard each day. Don't forget to replenish. We brought a couple protein bars with us, and they came in handy on the trail.
Other
Water storage: Enough for at least 2-3 liters. Hydration bladder encouraged *
Personal medication *
Basic First aid kit: band aids, moleskin, etc. *
Advil/Ibuprofen – something for headaches *
Camera + Accessories (including spare battery) *
Charging cords (phone, camera, etc.)
Large Plastic Bags: to keep clean/dirty or wet/dry clothes separated
Small Ziplock Bags: for carrying any waste during the day *
Your day pack is an important part of your packing list. Make sure it's comfortable, provides easy access to things like your camera gear, water, etc. and definitely the smaller, the better! Bags larger than approx. 25L may not be allowed into Machu Picchu and will need to be checked at the gate.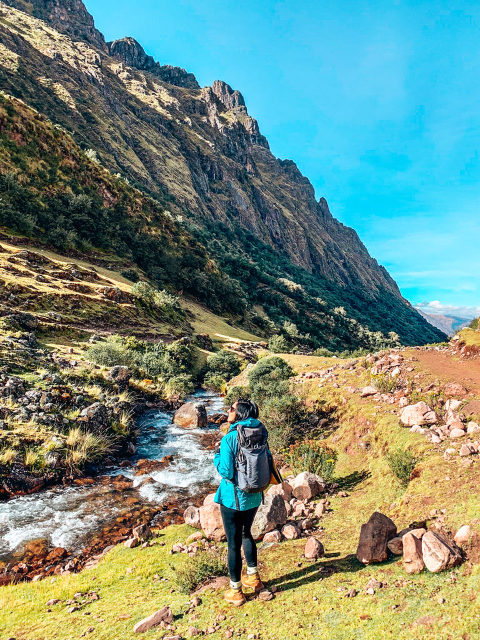 Each night after dinner they gave us a hot water bladder to snuggle up with in our sleeping bags, which was AWESOME, but eventually it cools off. If you run cold, consider packing some hand warmers like Ashley did, we were a little jealous. While some of these items are optional, like the hand warmers, an additional pillow, and a towel, your headlamp is a MUST for walking around camp after dark. You could use a flashlight, but when your inside a dark porta-potty tent, you'll appreciate being hands-free, Hah.
Finally, our camera gear is a big one for us, and while we wanted to make sure we could get awesome photos and video, we also stuck to the bare minimum so we weren't loaded down with too much weight. Between Ashley & I, we carried her Go Pro with Stabilizer, my Sony A7Riii, and our iphones, which worked perfectly. Sure, there were a couple times that we wished we had the drone, our bigger lenses or our tripod, but ultimately it would have just been too much for us to carry. For whatever you decide to bring, remember to pack a spare battery and a power bank since there is no place to charge while hiking/camping. Between our external chargers and our last night in our hotel, before going to Machu Picchu, we were able to keep everything charged for the duration of our trek.
We really hope you will find this post helpful when you're planning your trek to Machu Picchu. Depending on the trek & tour company you choose, your list might look a little different. Are you going to Peru soon or anywhere in South America? Have questions about anything we used on our hike? Let us know in the comments below!
Happy Travels,
Dani
PIN ME!