Utah is one of those places that is beautiful to see year round. If you're planning to visit Park City, get ready for loads of activities in Park City. Whether you're staying for one weekend or for the week, you'll find fun things to do in Park City. Check out our guide if you need transportation from Salt Lake City airport to Park City.
Where are the best restaurants in Park City?
Park City Main Street has a multitude of restaurants to choose from so you there is not a lack of options. One thing to note, always have a reservation. It can be difficult to walk into any restaurant with more than 4 people and be able to sit within 2 hours without a reservation. There are so many great restaurants you'll want to do your research beforehand and make reservations. Some of our favorites include: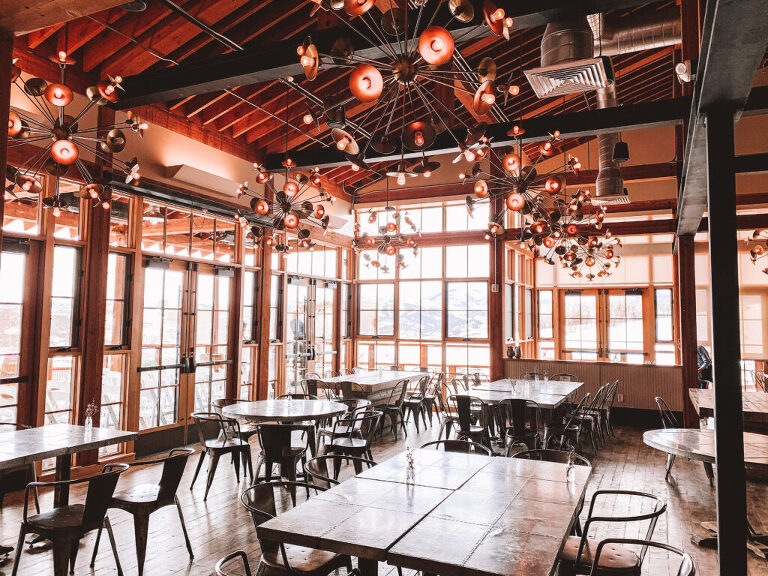 Riverhorse on Main– Featuring Eclectic American cuisine, this restaurant has repeatedly won award after award for an exquisite dining experience. Try the Ahi Tuna Tartare and Oysters! If you're a fan of meat, the Trio of Wild Game will send your taste buds soaring. Make your reservations early.
Bangkok Thai- We didn't try every Thai restaurant in Park City but this by far was a great restaurant! We heard amazing things about it from others we met along the way. There's nothing like great reviews from others that are visiting.
Vinto Pizzeria– This is known as one of the best pizza places in Park City. Don't leave Main Street without trying this gem.
Tekila Mexican Grill & Cantina- We stumbled upon this restaurant while we searched for a restaurant as we didn't have a reservation. We were concerned as we could get a table BUT no reason for concern. Affordable to Park City standards and delicious! If you're a lover of margaritas, they have a large variety to choose from.
No Name Saloon- Great place to go to for a drink and have some bar food. 21 and up only.
Chimayo– The restaurant itself is quaint and decorative. Its a twist on Mexican cuisine so don't feel shocked when you sit down and see menu items like Trout Fajitas or Sea Scallops. However, one entree we loved was the Duck Enchiladas.
Where to stay in Park City?
If you're looking into a hotel, you likely already know they are expensive during certain seasons like winter. AirBnB is one of my favorite options because there is something for everyone, it just depends on your price point. The closer you are to the mountain, or into town, the more expensive it can be. It also depends if you need a house or happy with a condo, apartment or studio in Park City.
When choosing a place to rent, be sure its close to a bus/shuttle stop so that you can easily get into town or to the ski resorts. If you have your own car, you have much more leeway as to the price and can stay further out of Park City to make your stay less expensive.
What are the best things to do in Park City?
Park City is the land of adventure or so I like to call it. Whether you're here looking for things to do in Park City during the summer or things to do in Park City Utah in Winter.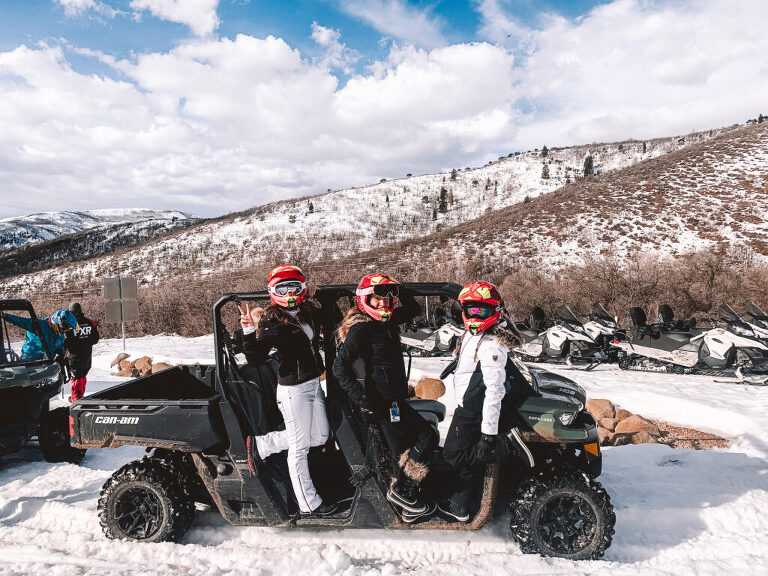 Snowboarding/Skiing/Tubing– Powder on the west coast of the United States makes this a completely different experience. We dream of boarding Park City throughout the entire year. Deer Valley Resort is for skiers only so we go to Park City Mountain to board. The last time we were in Park City, we didn't get to board the Canyons as they weren't merged at the time. This past winter, we trekked all over the mountain to experience all Park City had to offer. Brighton is also nearby and I hear great things about this resort.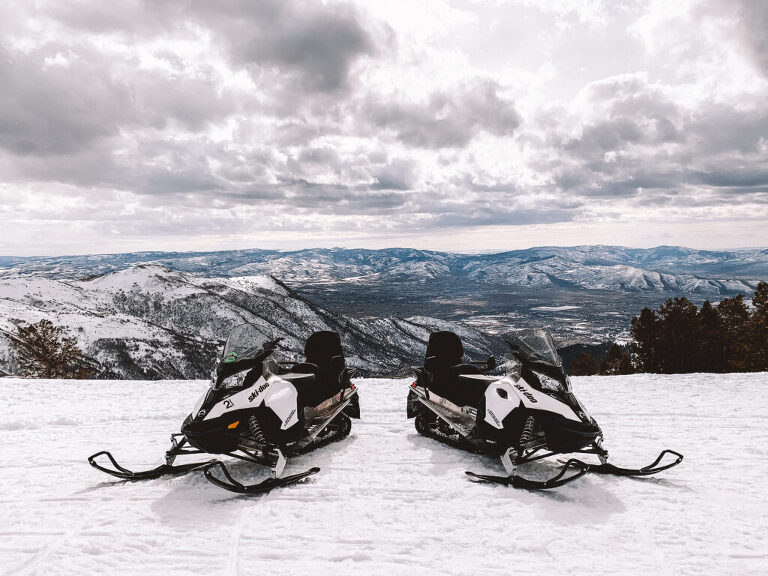 Snowmobiling/ ATV Tours– If you're not a skier or snowboarder, snowmobiling is my next favorite thing to do as a Park City winter activity. This was one of my first times snowmobiling and its one of many great things to do near Park City Utah. It's only a 30 minute car ride outside of Park City to Wasatch Mountains. If you're addicted to some thrill or like to see the area from above, this is definitely a sport for you.
The same company Wasatch Excursions offers ATV Tours, which is another excellent choice for things to do in Park City in the summer. If you've never driven an ATV, you're missing out! The entire experience from pick up at our place in Park City was fantastic. Be sure to check out this tour company the next time you're near Park City.
Hiking/ Mountain Biking– There are so many hiking trails and national parks that you can literally pick one and have something to do every day of the week. I included hiking and mountain biking together as most choose to do one or the other while exploring the 400+ miles of trails near Park City. The Silver Lake Trail is one of the more popular trails in the area but take note, this is a hiking trail only. Put hiking at the top of your Park City summer activities list!
Shop– I consider this a Park City attraction! Main Street is full of boutique shops. Some can be expensive so it depends on what type of shopping you're looking to do. I love looking at the shops near end of season because they're marking down inventory. For example, I went to Burton and found a snow jacket for $125!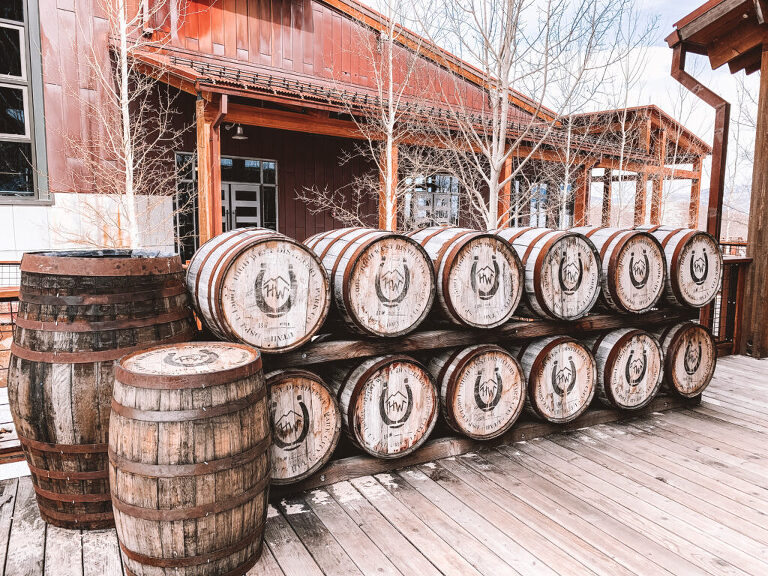 Visit Highwest Distillery– There are four locations for Highwest Distillery. I'll talk about two of them, which we attended. One is the Saloon in the downtown area of Park City Main Street and the other is about 30 to 40 minutes outside Park City. We went to both locations but I recommend traveling out to the distillery in Wanship, Utah as it houses a massive 1600 gallon copper pot still from Scotland. The tours are free and you can pay for a whiskey tasting at the end, which is about $25 USD. There is also a restaurant housed here as well. You'll need a reservation for both so be sure to call weeks in advance. This is one of my favorite distilleries in North America!
White Water Rafting/Tubing/Kayaking- Another great summer activity in Park City is water sports! Weber and Provo River provide great opportunities to get wet and active. Rent a kayak or tube the river with your friends or family. If you're more of a thrill seeker, find a tour company to go white water rafting.
Ziplining– If you enjoy ziplining, don't miss the 500 feet vertical drop at the Park City Mountain Resort. This is a perfect way to see the city from above while flying through the air.
Other activities include golf, horseback riding, fishing, and hot air balloons!
How to get around Park City
Getting around Park City is extremely easy and convenient. The shuttle bus stops have particular pick up times, which are posted at each stop. It's also free! If you're traveling a bit further than the town, use Uber. If you fancy to have your own car, I recommend renting a car from Salt Lake City airport as it can be difficult and more expensive to find a car in Park City.
---
READ MORE
How to get from Salt Lake City to Park City
---
There's so much to do in Park City Utah, that you won't run out of options. If you're looking to leave the area, you are surrounded by beautiful Utah National Parks. Utah is a great state to get outside and enjoy what mother nature has to offer.
Till next time guys!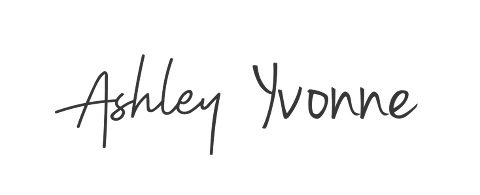 PIN ME!