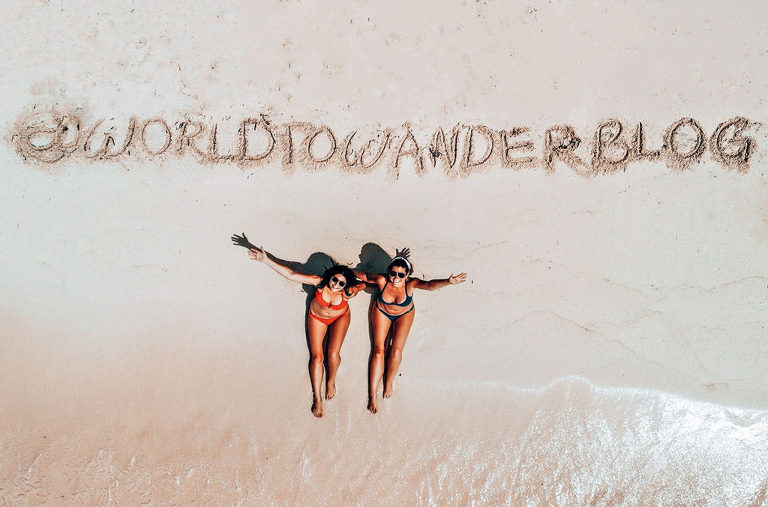 The Cayman Islands are full of beautiful beaches! There is no shortage of crystal clear blue water, colorful sea life, white sands & golden sunshine. So, whether you are looking for a relaxing day under your beach umbrella, a frozen cocktail and some island tunes, or an underwater adventure, you will find it here. Here are 5 beaches to visit in Grand Cayman, and what we liked about each of them.
Spotts Beach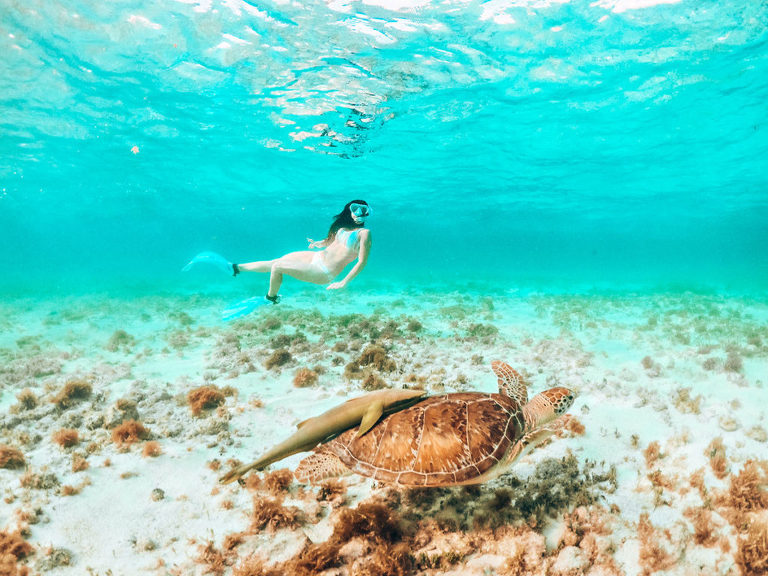 I am listing this one first because it was so nice, we went twice! What we loved about Spotts Beach was that it's small & feels private, not super touristy. There are several large palm trees that offer great shade, a pier, and cliffs on either end, creating a beautiful backdrop for sunrise or sunset. Oh, and chickens! Which is not uncommon for the area, but this beach seemed to have a few extra baby chicks running around, which was pretty cute. (side note: The chickens & roosters are everywhere in the Caymans. It actually made for a nice alarm clock, it's been a while since I woke up to the cock-a-doodle-doo of a rooster, Haha.)
But the HIGHLIGHT of Spotts Beach in Grand Cayman for us was the snorkeling, because both days that we visited this beach, we were able to spot several sea turtles, probably about 6 total! We also saw sting rays, fish, and some coral & rock formations, but the sea turtles took the cake! You'll have a good chance of seeing them in the late afternoon/early evening when they come in to feed on the sea-grass.
One thing to note is that there are no facilities or changing rooms, only a porta-potty, so keep that in mind if you are planning to spend the day.
Cayman Kai Beach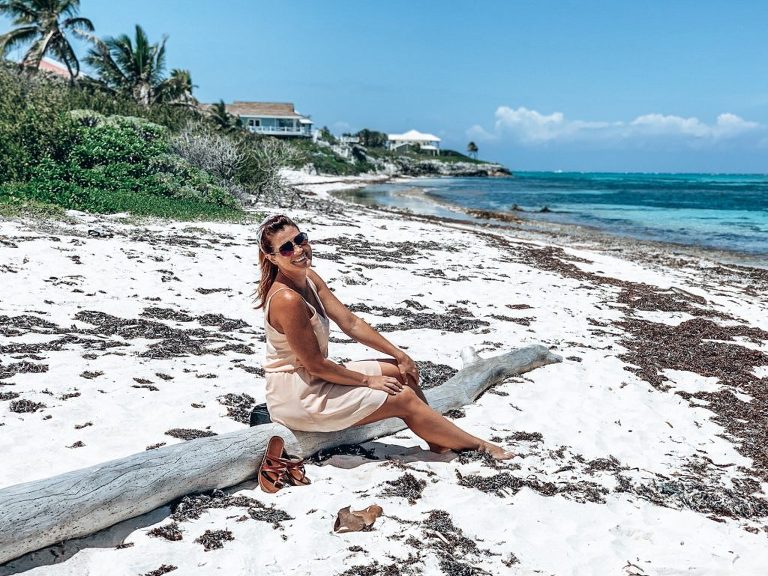 We stopped into Cayman Kai Beach on our way to Rum Point. With not many folks around, it was a very picturesque white sandy beach, that looked almost untouched. Dried up seaweed covered the shoreline. There was a large driftwood log that made a perfect seat in the sand, and a beautiful sea breeze. We took a short walk & took some photos, and then headed on to Rum Point.
Rum Point Beach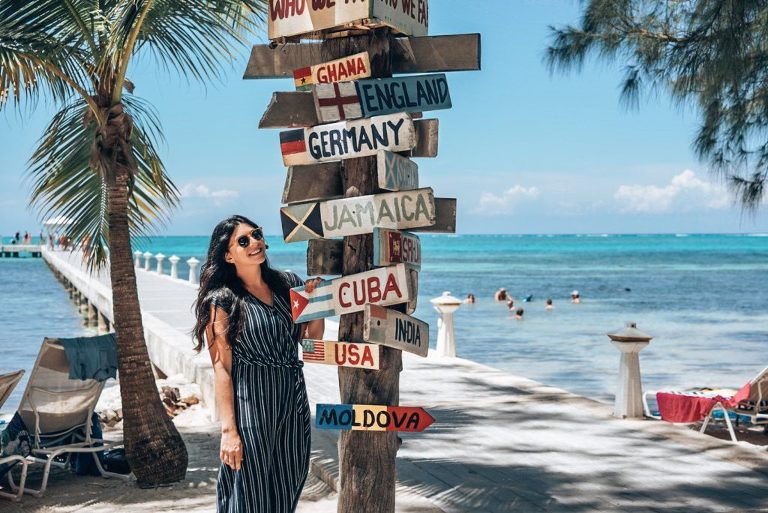 At Rum Point there is a little something for everyone! There's food, drinks, tables, beach chairs & hammocks, water sports rentals, & more. This is a popular destination, and it was very busy while we were there. We did a little snorkeling, rented a stand up paddle board and paddled our way out to where several boats were anchored on a nearby sandbar, and later (after we were all tuckered out) got ourselves a Cay Brew, walked the pier and & lounged around on the beach chairs to enjoy the sunset. It's a very cool spot, with lots of photo ops & fun for the whole family.
West Bay Beach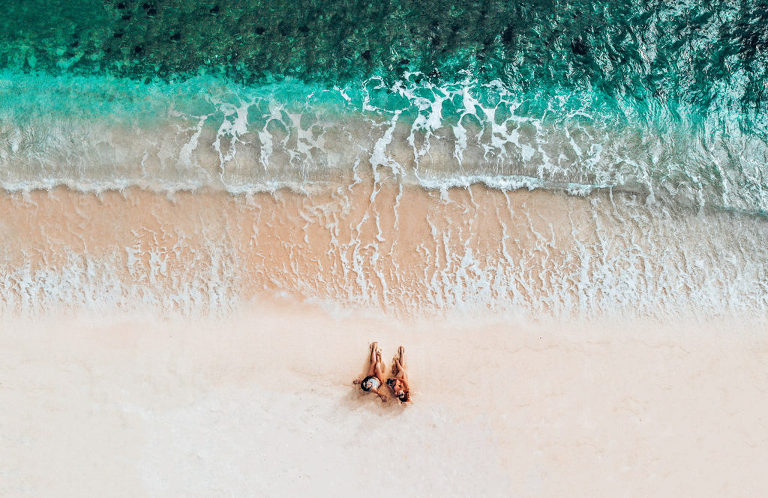 We were staying in West Bay, so this was actually the first beach we visited, and watched our first Grand Cayman sunset of the trip next to the ironshore rocks, which almost create a little cove there. Here, next to West Bay Public Beach, you'll also find the West Bay Dock, a popular departure location for many dive operators, since there are several dive sites as close as a 5 min boat ride, including the USS Kittiwake & Neptune's Wall. You can search here for operators depending on what kind of activity you're looking for: snorkeling, diving, fishing, etc.
Seven Mile Beach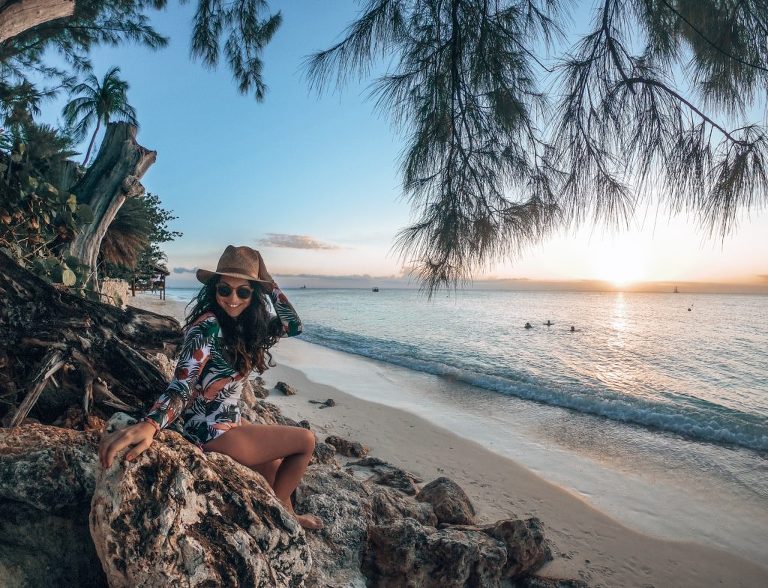 Seven Mile Beach is known for being one of the Caribbean's best beaches, receiving many awards & accolades. So definitely check it out if you're heading to the Caymans. Ironically it's only 5.5 miles long, and made up of several other beaches. So, if you're up for it, like we were, go ahead & take a stroll along the water and explore the whole thing! Along the way you will find beautiful residences, resorts, restaurants, and people visiting from everywhere enjoying the this lovely location. Some of the other most popular public access beaches along 7 Mile include Cemetery Beach, Public Beach & Governor's Beach.
To wrap it up, we really enjoyed our time at the beaches in Grand Cayman. They all had something a little different to offer, and we are excited to go back soon and explore some others! Leave a comment below to let us know which beaches you visited, or are planning to visit on your next trip to the Caymans! We'd love to know which were your favorites.
If you're looking for other Grand Cayman activities, take a look at 7 things to do in Grand Cayman. Check out other North America destinations.
Happy Travels!
Dani
PIN ME!