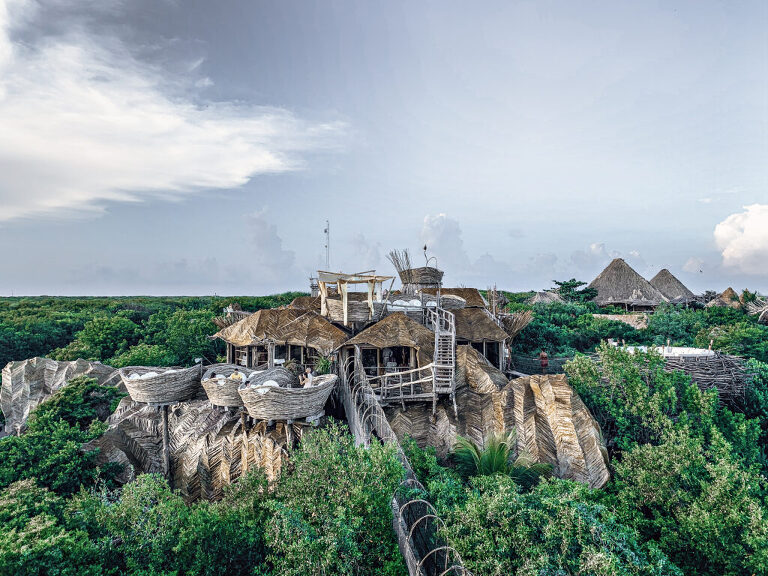 Looking for the best places to eat in Tulum, Mexico? The town of Tulum and Tulum Beach have plenty of options to choose from when looking for the best of Tulum, Mexico. If you're wanting to get seating at the best restaurants in Tulum, you'll want to reserve seating before you even arrive in Mexico. Please note, the town of Tulum can be 10 to 25 minutes away from any lodging you may have on the beach so allow sufficient time for travel on the one-way beach street. 
Cash is widely accepted in Tulum. If you're within the town of Tulum, you'll likely use cash more often. On Tulum Beach, cash is preferred. However, many of the upscale restaurants will accept credit cards. Sometimes the Wi-Fi will go down, which will result in waiting for the Wi-Fi to come back on before they can run your card. 
Tipping in Mexico is typically between 10-15 % of your total bill. Before adding tip, look at your bill for "propina" or service fee. If found, it means tip has already been added to your bill. If you are tipping, it's best to tip in pesos so that locals will not need to exchange your foreign currency for pesos. 
Best Restaurants in Tulum, Mexico
Rosa Negra
 

 

View this post on Instagram

 
Hands down, this is my favorite restaurant in all of Tulum. Anytime I think of visiting Tulum, this is the first restaurant I reserve seating. At Rosa Negra, you can find anything from Skirt Steak Tacos to Tuna Tostadas, Octopus, Ceviche, Risottos to Kobe Beef. Don't forget to try the cocktails and save room for a dessert. The tostadas, empanadas and Duck Carnitas Tacos are some of my favorites. 
Kitchen Table
 

 

 

View this post on Instagram

 

 

 

 

 

 

 

 

 

 

 

 

 

 

 

 
If you like to eat in the middle of the jungle, this is the restaurant for you. You can watch the chefs cook your fresh caught fish right in front of you. The menu changes seasonally and the menu may even change based on what fresh products are available that day. On my most recent visit, I picked out the lobster I wanted to eat, paired with a veggie, rice and red wine. Yum!
Gitano
Gitano Restaurant is another you'll want to reserve in advance. I've watched people stand in the rain for hours to get in. It not only has fantastic food but the Mezcal cocktails are known on the beach! Inside Gitano, you'll find a colonial room to enjoy a drink. My favorite plate is the Fish Filet in Banana Leaf paired with the Chipotle Potatoes. Add the Churros as a dessert!
Nomade La Popular
Enjoy dinner seated on a pillow on the beachfront! I really enjoyed getting to Nomade La Popular early to enjoy a drink at my table as the sun was going down, followed by appetizers and the main meal. The Octopus, Tuna Tartare and Ceviche Nomade are recommended to start. Add Corn, Flank Steak Tacos and the Sea Bass. This is a great restaurant to share if you're here visiting with a significant other or friends. You'll want to try everything!
Raw Love Cafe
Raw Love Café is located at the most iconic art installations on Tulum Beach. This is a great location for breakfast or a midday snack. You can find lattes, herbal shots, acai bowls and smoothies. It also happens to have the perfect spot on the beach!
Hartwood
Easily one of the most loved restaurants in all of Tulum and one of the hardest reservations to get due to the size of the restaurant. Hartwoods menu changes on a daily basis, which depends on what is caught fresh each day. It's not open on Mondays or Tuesdays, so you'll want to ensure you have a reservation in advance. 
Kin Toh
Located in one of the most beautiful boutique hotels on Tulum Beach, Azulik. Kin Toh is a unique experience that I recommend everyone have at least once. It is more expensive than other restaurants on this list. The chefs at Kin Toh have few items on the menu that can be chosen from but offer five course menus, which typically include two appetizers, two main courses and a dessert. 
Arca
This open fire cooking is what sets this restaurant apart from the others. The menu consists of small plates that are meant to be shared with others. I've personally loved the Grilled Avocado and Soft Shell Crab. Pair it with the Chechen cocktail if you love Tequila Blanco. 
Matcha Mama
Matcha Mama is another fantastic place to enjoy breakfast or midday snack. You can find Matcha drinks, smoothies, acai bowls etc. Be sure to take some time at Matcha Mama and enjoy your time on the swings. Grab a cute photo too!
Boccanera Pizzeria y Cerveceria
It's easily the best pizza found on Tulum Beach, Mexico. I am sucker for a margherita pizza! It's a must try on Tulum beach if you're interested in an authentic wood fired experience. 
Bak's by Harrys
Bak's by Harrys is difficult to miss, located in the heart of Tulum Beach Zone. You'll have your choice of some of the finest meats in Tulum. Not only will you find some of the best USDA prime cuts but you can choose from Moroccan Tuna, Risotto with lobster, Octopus, Wild Salmon and more. One of my personal favorites is the seafood bar where you can enjoy oysters, clams, and Stone crabs. 
Kasa Hotel Parota 
Kasa Hotel Parota is a hotel, yes. I know it seems quite odd that a hotel restaurant made this list but it was by far the BEST breakfast we've had in all of Tulum. The hotel is located in the jungle between Tulum Beach and Tulum town. I've quite literally tried everything on their menu and it is delicious. So delicious I will continue to eat there every morning. The French toast, avocado toast and omelets rocked my world!
Casa Jaguar
Casa Jaguar Restaurant in Tulum Beach attracted me at first to their cocktails. While we were there, we decided to order a few appetizers before our dinner reservation. I was pleasantly surprised! If you're looking for a menu before you visit, you likely will not find one as they change the menu every once in a while depending on the season. Give it a try!
Taqueria La Eufemia
Taqueria La Eufemia is easily the least expensive restaurant on the beach. It is consistently drawing a crowd because of their fish tacos! This restaurant is co-owned by I Scream Bar down the road, which you'll also want to visit for a great late night vibe, dancing included. 
Burrito Amor
Burrito Amor is located in the town of Tulum. It is not the last restaurant on my list because it's my least favorite, it's actually one of my favorites! We have to go out with a bang, right? The burritos here are insanely delicious that even the locals frequent. Each burrito is wrapped in a banana leaf, gluten free tortillas are available too. I have not tried the breakfast burritos but I can vouch for the chicken breast Burrito and the Al Pastor style Pork. You will not be disappointed! Try stopping here on the way back from a Cenote. 
Overall, there are not many restaurants in Tulum that I've tried and didn't love. I didn't include the beach clubs that have some fantastic food selections as you'll likely try the food at whichever beach clubs you're visiting. My best of Tulum Mexico post gives more detail as to which beach clubs I loved, if you'd like to check it out. 
PIN ME!