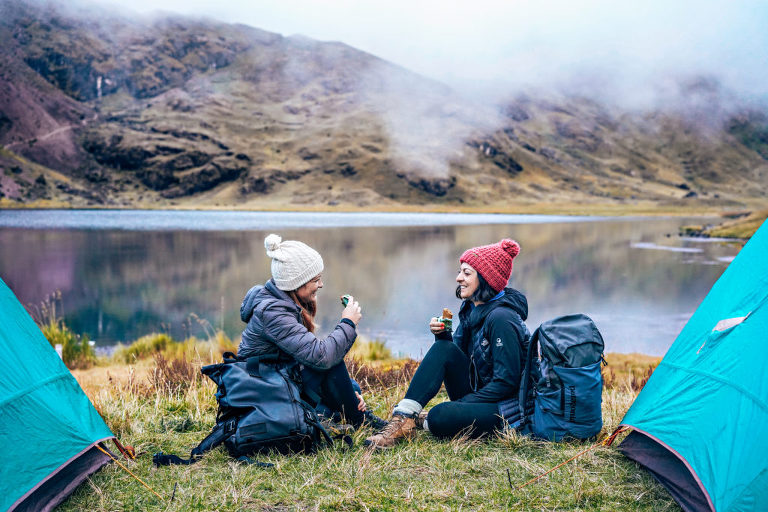 The Lares Trek to Machu Picchu in Peru has been something out of a dream and mentally challenging. Day One of our hike to Machu Picchu was much easier than we actually realized because Day Two hadn't happened. The second day hike to Machu Picchu began around 5:30 am, we were greeted with a wake up which included coca leaf tea. We packed our duffles and day packs and enjoyed a delicious breakfast of Pancakes, Toast, Sausage, Fried Yucca and Diced Chicken with Veggies, Porridge along with assortment of tea's and coffee. As you can tell, there is no shortage of food!
We began our walk up to the Summit on the Lares Trek around the lagoon that we camped next to the previous night. The mountain reflected off the water, which made for beautiful photos. 
We had a five hour hike till lunch and I knew this was the toughest part of the four days. When we hiked over the first mountain, we saw the first view of the Pitusiray Snow Cap in the distance. Little did we know, that we would come pretty close to it at our tea stop on the Lares Trek, which was about an hour from the Summit.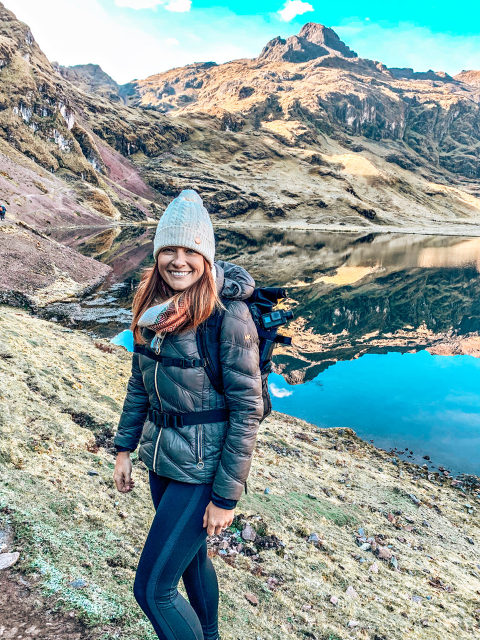 We took it slowly, drank plenty of water and rested whenever we needed. As mentioned in a previous blog post, our guide Edu reminded us to go as slowly as we needed and rest. We truly tried to take it easy but were so excited to see these amazing mountains in South America.
I remember the moment the porters, chef and donkeys passed us on the Lares trek and within a few moments they were all the way at the top of the mountain we were on at this time. It made me realize how great they really are at getting to the next site to set up before we arrived. They are use to the altitude so it makes it easier for them but what makes it so great is that its easier on us when we arrive. 
We get to the stop of this mountain and I'm thinking ok, we must be close to the Summit! Well, no we weren't. However, one look over and we could see two blue lagoons settled up against the mountain. We had been walking on the trail next to these lagoons and hadn't realized that when the sun would shine, they'd be a beautiful blue color. Shortly after we stopped for coca tea right in front of the snow capped mountain.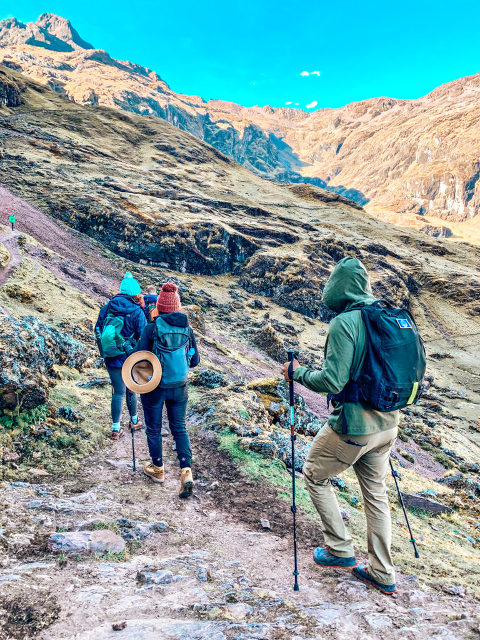 Edu showed us some of the Andean Grass that was at the top, which is used to make roofs, ropes and bridges. It was really quite durable. 
After about a 20 minute break from our hike to Machu Picchu, we continued on for a few hours to the Summit. At the tea time break, I developed a headache which stayed with me until we reached lunch a few hours later. However, mentally I knew to take it slow, continue to drink water and take in the views. They really were spectacular. At the summit, we saw a few other groups taking in the sites before we started our descent into our lunch site. The Summit sits at over 15,000 feet! It wasn't too chilly in the sun but really beautiful. I recommend getting a few photos even if you aren't feeling the best. If you are experiencing altitude sickness it will pass soon, at least it did for me.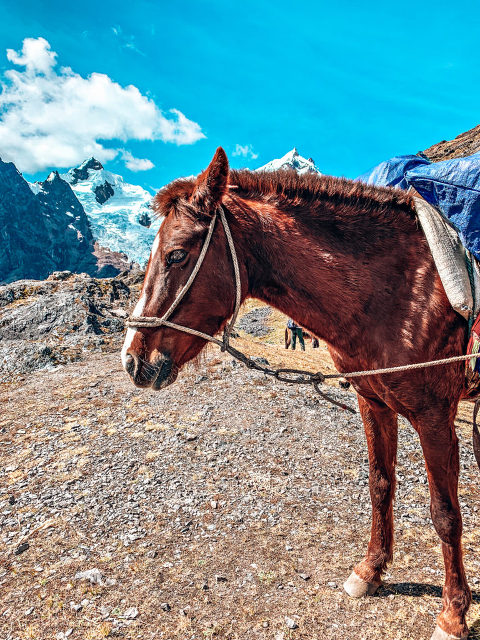 We could see our lunch tent already set up in the far distance while we were at the Summit. It would be about 1.5 hours hike down to our site. This is really where our waking poles came into use. Many loose rocks and gravel made it necessary to have poles. The view walking down was just as beautiful as the other side but it also looked completely different. 
Once you get off the mountain, we walked through a pasteur with many different llamas and alpacas. I walked so close I was able to get a video of one of the alpaca's just staring at me. This was when my headache started to subside from the trek to Machu Picchu. Once we arrived to camp, it was time for a delicious lunch prepared by our chef.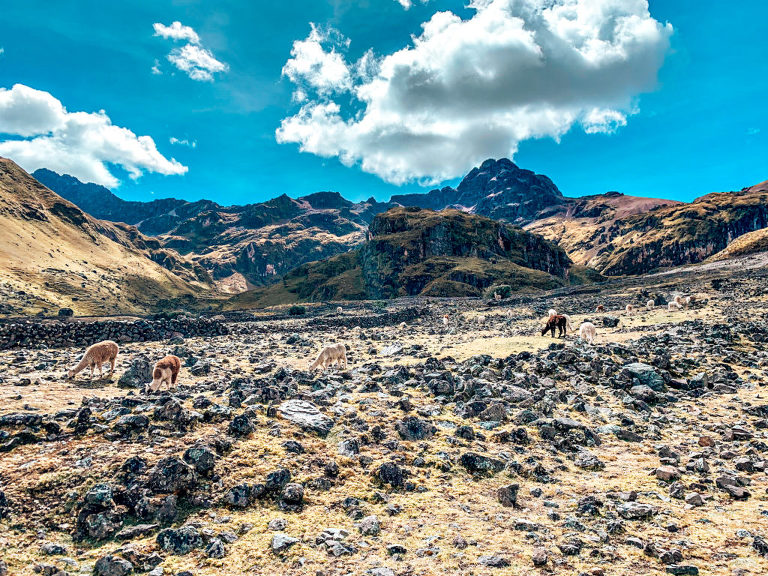 Quinoa Spinach Soup with Pico De Gallo, Stuffed Wonton Enchilada, Macaroni with olives and eggs, Chicken, Cold Salad with beans, cheese and potatoes, and Fried Yucca Spinach Fritters were on the menu. Can you imagine carrying all of this food and preparing it with only a few pots or pans? It's amazing what they are able to do and the food was delicious at every single meal. 
After lunch and a small rest, we continued to descend to our camp for the evening. Our camp was situated in a small village next to a school. When we arrived, several families were playing soccer and enjoying the afternoon sun. If we weren't so exhausted from the 8 hours we just hiked to the highest elevation we've ever been, we would have joined in. I really loved watching them having such a great time. All of us took a quick one hour nap. I know one hour doesn't seem quick but it felt quick to us as you really have no idea how much high altitude takes out of you. 
After our naps, we walked around to take beautiful images of the village and stream running through it. It was time for tea at this point where we enjoyed Popcorn and Fried Sweet Potato Chips. We talked over our experiences that day as well as shared photos of what we saw. Everyone agreed that the trek down the mountain was the hardest part because you had to think about foot placement so that you didn't slip on the loose rocks. I think the most laughter came out of this evening over dinner. We were incredibly happy and gracious to be able to complete this trek.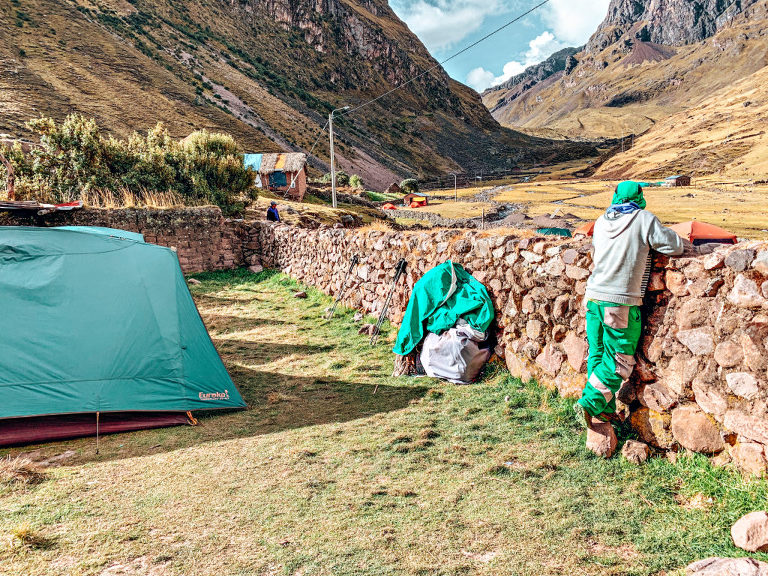 Dinner consisted of Semolina Soup with Bread, Stuffed Chicken, Pasta with Red Sauce, Broccoli Cake Fritters, Veggie Salad with Fried Potato, Beetroot, Olives, Green Beans and Carrots. We enjoyed a little of the local rum while relaxing with our hot cocoa and hot water bottles. 
We burned the candle at both ends this evening going to bed at a late 8:30 pm. I say that jokingly really but when you consider waking up at 5:30 am and hiking all day, it really did feel like a long but incredibly rewarding day. 
This evening felt a little colder than the last but was easy to fall asleep. The sleeping bags are rated at a -15 Celcius and with the hot water bottles they kept us warm. I am typically cold all of the time, so I brought some hand warmers. These are the hand warmers I usually use when I go snowboarding. I wasn't aware we would get hot water bottles when I decided to bring them but adding them in made sure that I would fall asleep quickly and warmly. Going to sleep tonight incredibly excited about going to Aguas Calientes! Continue on with Lares Trek to Machu Picchu- Part IV.
Till next time guys!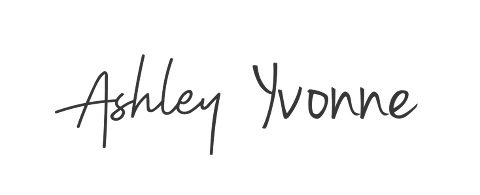 PIN ME!