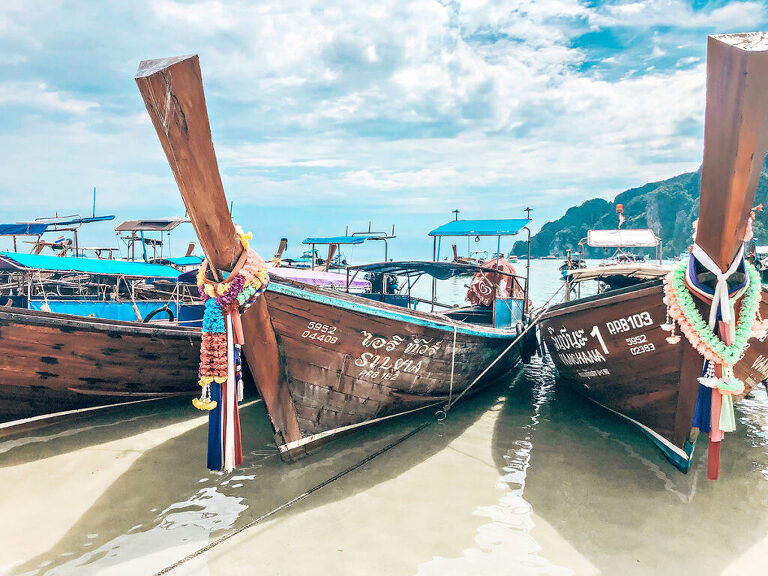 If you're thinking of visiting Phi Phi Islands off the coast of Phuket in Thailand, I highly recommend renting a longtail boat. It was a great way to see the entire island. You can negotiate your price with these companies but expect to find the price to be around 2300 baht. The tour included a captain of the boat, and 6 hours to visit any of the coves or islands around Phi Phi.
We also rented snorkeling gear for only 200 baht each.
I really hadn't looked at exactly which coves I wanted to visit but I really wasn't doubting the beauty of all of Phi Phi Islands. The one place I knew of was Maya Bay because of the movie "The Beach".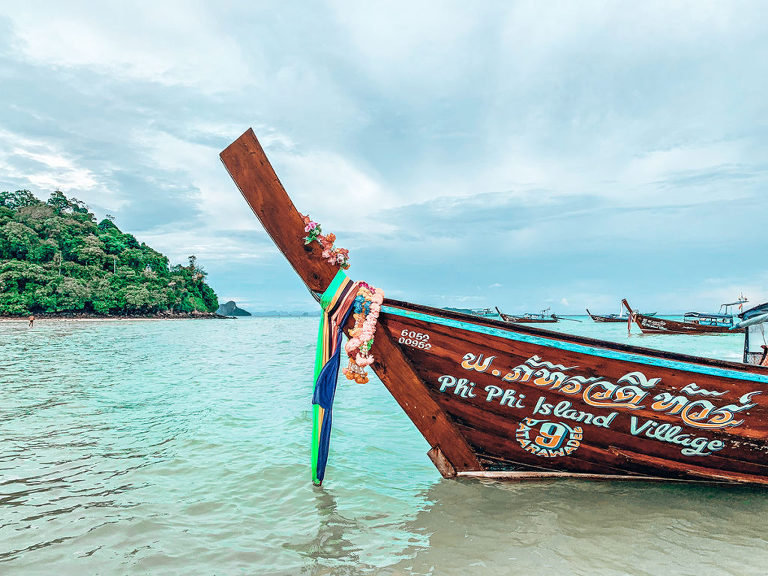 We set out on our tour at 9:30 am. The sun was bright but the breeze out on the water was welcoming. Our first stop was Maya Bay. Unfortunately, because of the millions of tourists that visit Phi Phi Islands every year, the coral has been destroyed by the boats entering the bay. It is currently closed so that the coral can grow and thrive so we saw the bay from afar. (It's been closed indefinitely.)
Our second stop was Loh Samah Bay. We jumped in with our snorkel gear and swam over to the little cove/cave to take a closer look at the coral and fish. The water was a bit rough but enjoyable since the sun was so hot. On our way back to the boat, Chris saw a shark…yes, I said shark! I know this may not frighten many but it scared me so much I jumped on his back. No worries, he was able to stand up so he was fine. We are hoping our Go Pro caught the footage but we will see. As soon as the shark was out of sight, I swam (quickly) to the boat to get onboard.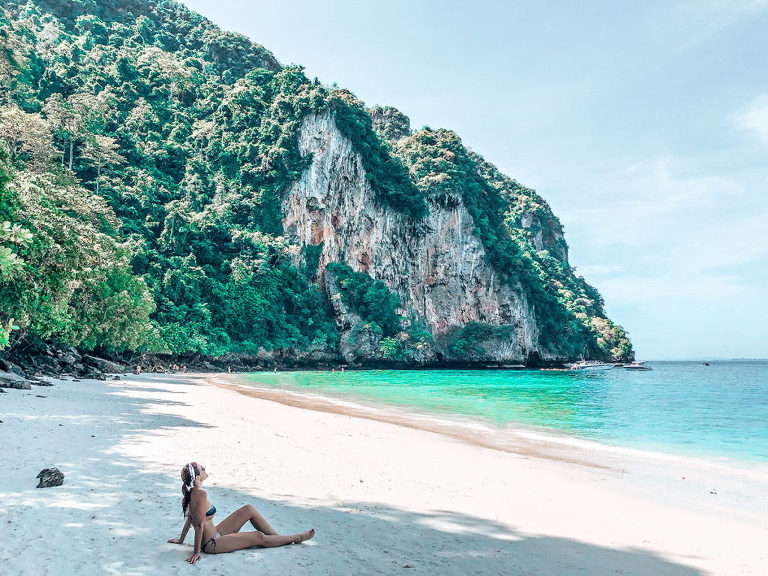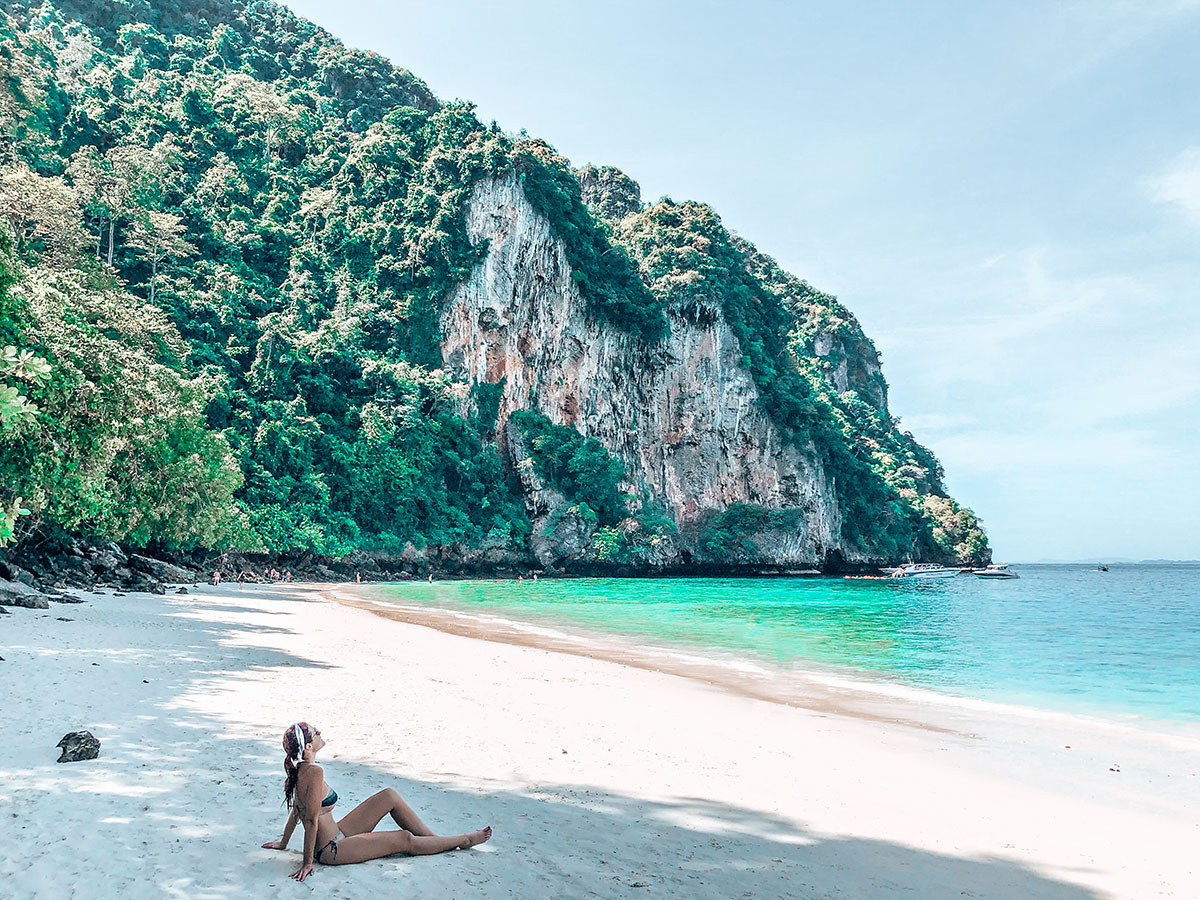 Our third stop was Pi-Leh. The water was much more shallow and green so you could see the bottom. This stop was less work so we were able to relax in the water for a bit. We pulled out some of the beer we purchased before our trip and enjoyed the water here. Our boat captain took advantage too and swam around with us. We really loved that he felt comfortable to spend some time with us.
---
Read More
Southern Thailand 12 Day Itinerary
---
Our fourth stop wasn't really a stop but more like a pass by. It's Viking Cave. It's a prohibited area to visit but you can take photos.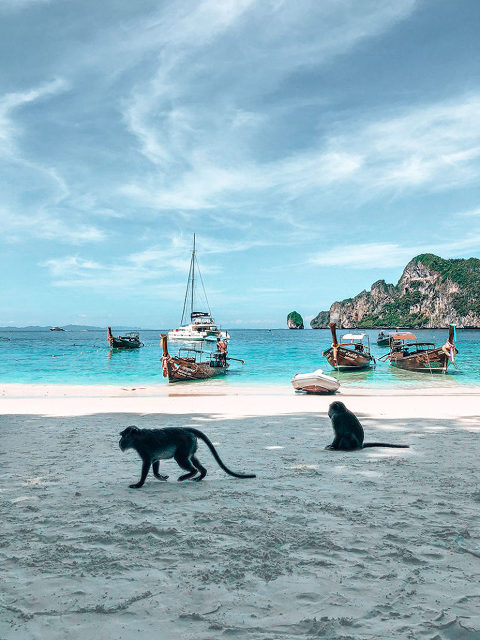 Our fifth stop was Yon Ga Sem Bay, otherwise known as Monkey Island. First, let me say, do not run on the island, the monkeys will run after you. Second, don't bring food in a bag or they will swarm you and go to grab it. Third, if you want to feed them, be forewarned you may get scratched or bitten. They are wild monkeys and do carry diseases. I know it sounds fun and cute to get photos of them on you but we watched many people getting far too close and witnessed many tears after the monkeys jumped on them. I recommend taking your photos away from them and if they start to walk or run towards you don't run, just ignore them and walk away. This island was one of our favorites, as the trees offered shade on the rocks to enjoy the beach and it was big enough that others didn't crowd you.
Our sixth stop was Nui Bay. I think I would say this was one of my personal favorites. It was a smaller cove and the water was a deep blue and green color. There was a swimming area with lots of greenery around to protect yourself from the sun. There were also small little caves to escape into. Be careful of walking because the rocks are sharp but we didn't have any shoes and were fine, just watch where you're stepping. This is where our captain was feeding the fish in the water with us and hundreds of the prettiest fish were swimming around us. He even caught one (and released it).
Our last stop was La Na Bay. You can snorkel here but it is in the broad sun so there isn't much escape. I recommend skipping this one and staying longer at the last stop (Nui Bay).
TIPS
If you have sensitive feet, bring water shoes for the rocks.
Even if you only snorkel for an hour or so, it's definitely worth to have it for Loh Samah Bay and Nui Bay.
Bring sunscreen! I usually burn once in the beginning of the summer and it's pretty painless and is gone within a day. It's the end of our summer in Florida so I've had my tan. I burned worse on this day than I've ever remembered. I didn't wear sunscreen at all. So just be careful.
If you want to capture the beauty under the water, bring an underwater camera or get a lifeproof case for your iPhone. We recommend a GoPro so you can capture video and photos.
Bring a charger for your phone or extra battery for your camera because you will take a lot of photos within Asia
Bring money to tip your captain. He was extremely nice, took us to all the prettiest coves and relaxed with us. He spends all his time with you, and it's good to show them how much you appreciate their helpfulness.
Till next time guys!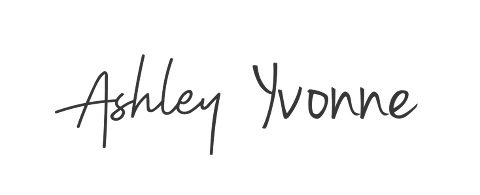 PIN ME!