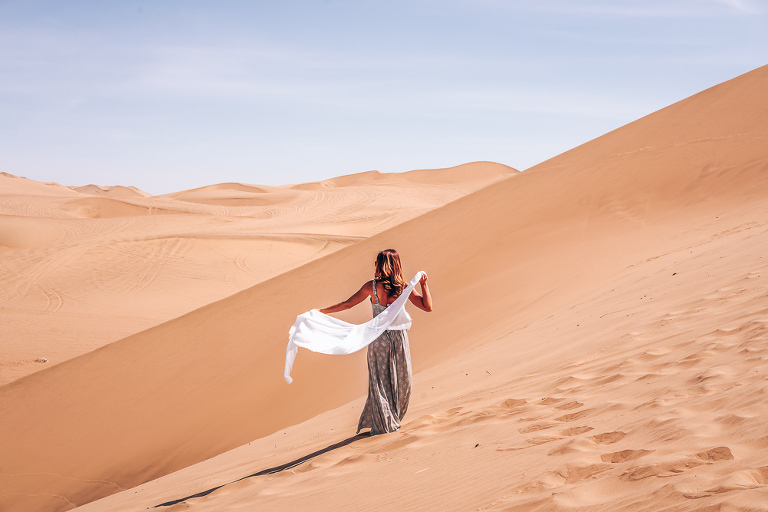 When we were researching to plan our trip to Peru, we started seeing pictures of Huacachina, a desert oasis in Ica, Peru, and we knew that we had to add this place to our itinerary for this trip. It's a bit of a drive to get to but well worth it. We started our trip in Lima, Peru. If you're looking for other options starting in Lima, consider a Luxury Cruise in South America.
Huacachina is like something you've seen in the movies, but it's not a mirage! It's a tiny paradise, surrounded by desert dunes. We only spent 1 night in Huacachina, but it was actually one of the highlights of our trip! Here's what we did.
We drove into Huacachina from Lima, which is approximately a 4 hour drive, from the Jorge Chávez International Airport to the oasis. When we arrived, we checked in to our hotel, the DM Hoteles Mossone. From the street, you wouldn't notice the special charm of this hotel. In fact, when we first pulled up, we weren't sure we were in the right place, based on the images we saw online when we booked. But, once you walk inside, you are greeted by a beautiful garden courtyard, lined on all sides with brightly colored red and white archways, candelabra chandeliers hanging in the large outdoor hallways surrounding the courtyard, with polished wooden beams above, terra cotta colored tiles under your feet, and rocking chairs outside of every room to enjoy your morning cup of coffee with a view of the various pink, red, and orange bougainvilleas in bloom, and the sand dunes of Huacachina off in the distance. And from inside their dining room, you have a nice view of the oasis, where you can watch folks strolling around or even out on the water in paddle boats or small canoes.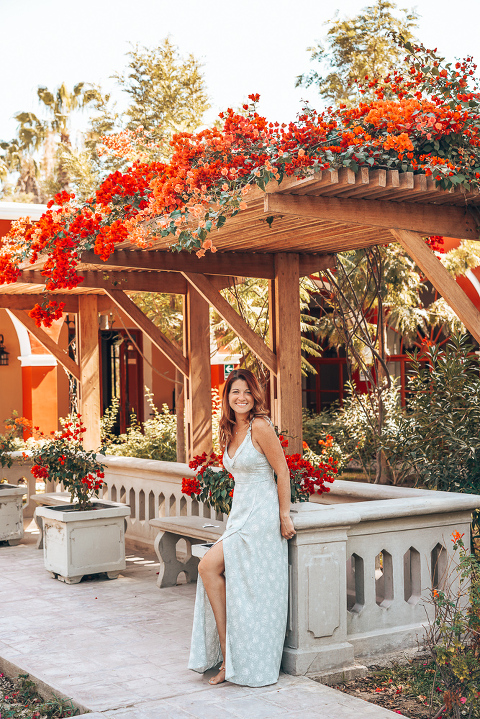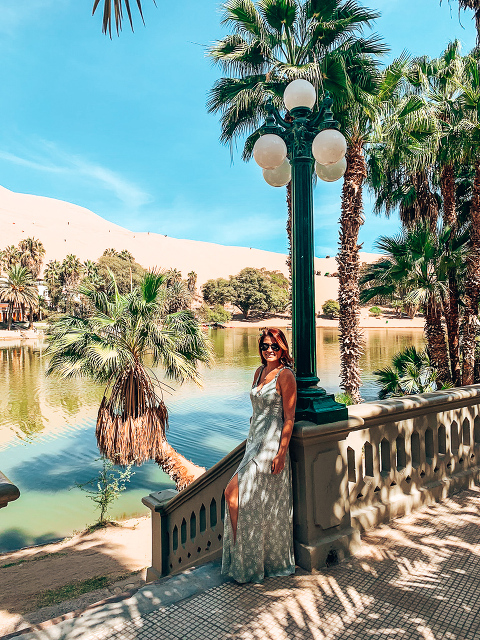 Although we were excited to take a walk around the oasis ourselves, we were on a bit of a tight schedule, so we got settled in our room, made a quick change and headed out for our Huacachina adventure; Sand Boarding (well, skiing in my case). We were really excited, and a little nervous about this. As with any sport on vacation, you're always hoping it doesn't end in disaster. Fortunately, this was towards the end of our trip, and if one of us broke a leg or something, at least we got that 4 day / 3 night Hike to Machu Picchu out of the way, you know? But with that said, none of us broke anything and this was one of our best memories of this trip, so if you're on the fence about it, we say do it!
We booked the private Sand Buggy, Sand Boarding/Sand Skiing Experience with Sand Snow School Peru. (that was a tongue twister, haha) As mentioned above, I skied and Ashley, Josh & Chris boarded, as we usually do together on snow. We were curious how close this would feel to snow skiing/boarding, and if we'd pick it right up, or be swallowing sand. For the record, we landed somewhere in the middle, hah.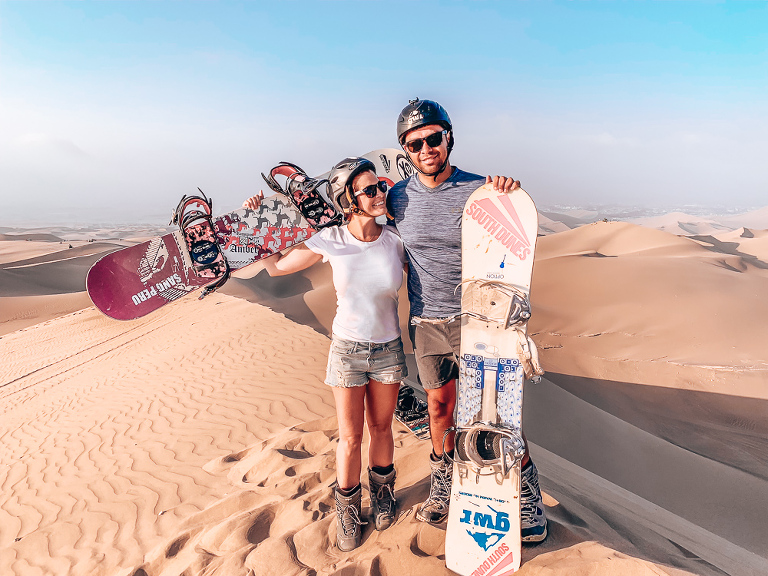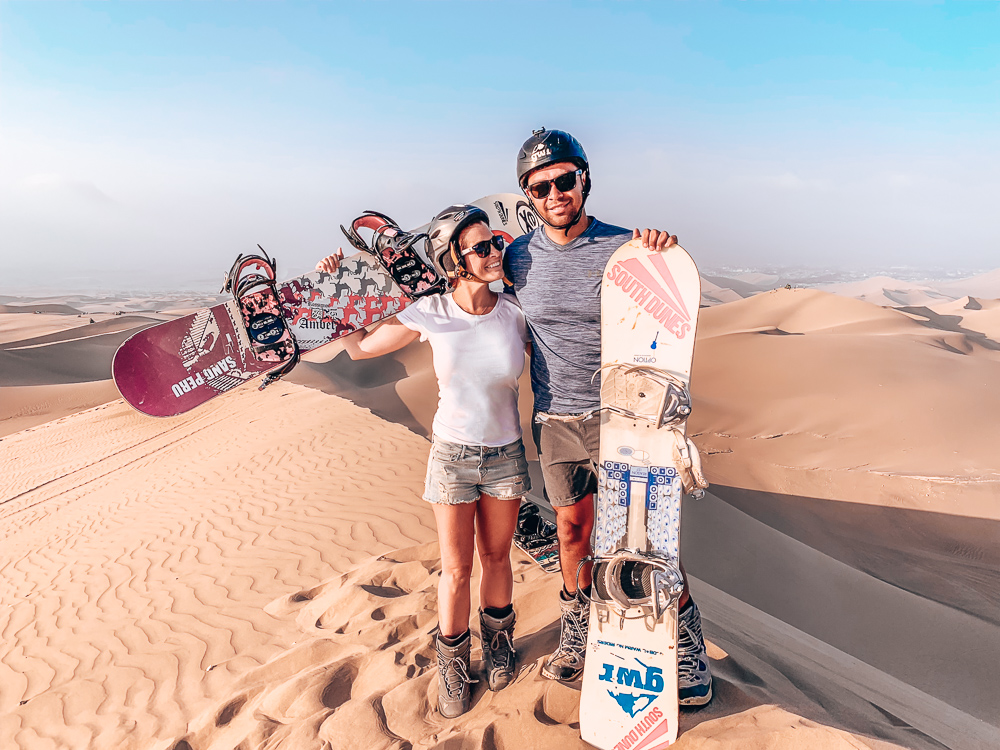 Sand Snow School was just a short walk from the hotel. When we arrived we got outfitted with our gear, and set up our Go Pros to make sure we didn't miss any of the action. Then they took us outside for our trial run. Only instead of catching a ski lift up to the top of the hill, we walked. We were in our boots, carrying our gear, and trying to make our way to the top of a hot sand dune that felt like we would never see the top of. Not because it was even high, but because the sand kept moving out from under our feet and each step almost felt like we were moving backwards at first. Our tour guide gave us tips on how to walk in the sand, and kept encouraging us until we all made it to the top! Phew!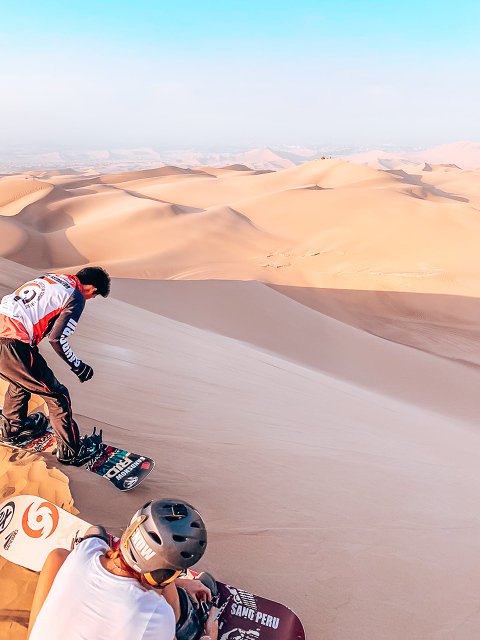 After we got through with the "bunny hill", we were assigned our Sand Buggy & driver who would take us up to the tippy tops of the larger dunes for us to board down. I honestly had no idea how much I was going to enjoy this. Even while I write this, I have a huge smile on my face, which I think was permanently plastered from ear to ear while we sped across the desert in this sand buggy, racing up and down the sides of these dunes like a roller coaster. Arms up, laughing and squealing at the tops of our lungs. Not only was it fun, it was beautiful too, watching the sun get low in the desert, sands blowing off of the tops of dunes. (stay tuned for a video very soon). Needless to say, we had an absolute blast, and it was worth all of the sand in our hair, socks, shorts, and shoes. Pretty sure I ended up bringing some home with me.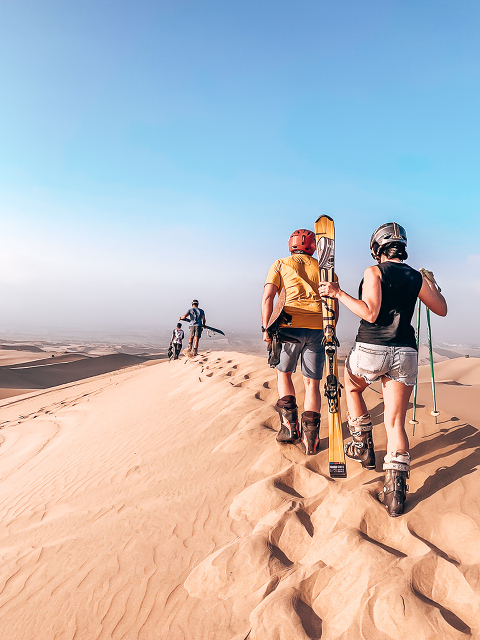 Ok, we were ready to go home now. Just kidding (sorta). Did I mention this day came after an intense 4 day hike in Cusco? Ok, so yeah, we were little tired at this point, but our guide was great. He kept us laughing, and moving. He showed us how to wax our boards & skis, how to properly mount the board in the sand. He demonstrated how to carve in the sand down the dune, although he certainly did make it look easy! These guys are no joke. They were holding a sand boarding championship while we were there, and our guide had a team in the competition. We got to see some of them speeding down the dunes, doing fancy jumps and tricks. It was awesome. But back to us..we weren't doing any of that. We were mostly trying to figure out how to get going, Haha. The sand is very heavy, and if you don't get a good start, it can start quickly falling behind you, burying your board, and making it hard to get free. Needless to say, we had a bit of a learning curve, but we enjoyed every minute of it!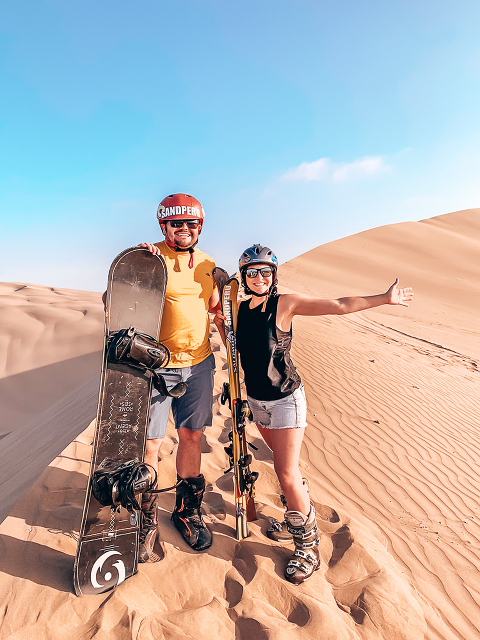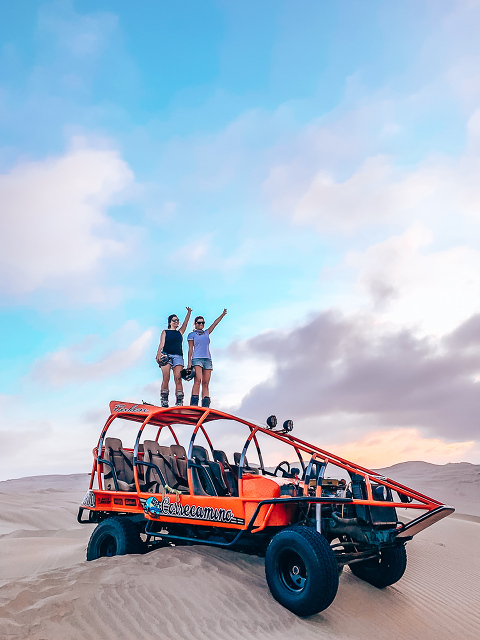 After our sand adventures we were pretty starved, so we looked for a place to grab some dinner and piscos. We found a cute little spot with a rooftop dining area, and snuggled up under their wool blankets while we dined al fresco. If you didn't know, it gets cold in the desert once the sun goes down. We were pretty exhausted, so we didn't take much advantage of the nightlife, but one thing you should know about Huacachina, is that it doesn't shut down early! In fact, from our hotel we heard dance music off in the distance well into the wee hours of the morning. They are a lively bunch in this little party town. If you're a super light sleeper, you may want to bring a pair of earplugs.
The next morning, Ashley & I got up early to go get some photos on the dunes. Phew, again, a challenging climb, barefoot in the hot sand. But worth every second because we got some amazing shots up there, and probably worked off those pisco sours from the night before! After our shoot, we packed up the car and headed off to Tacama Winery & Vineyards on our way to Paracas for our final day in Peru, but we'll save that for another blog.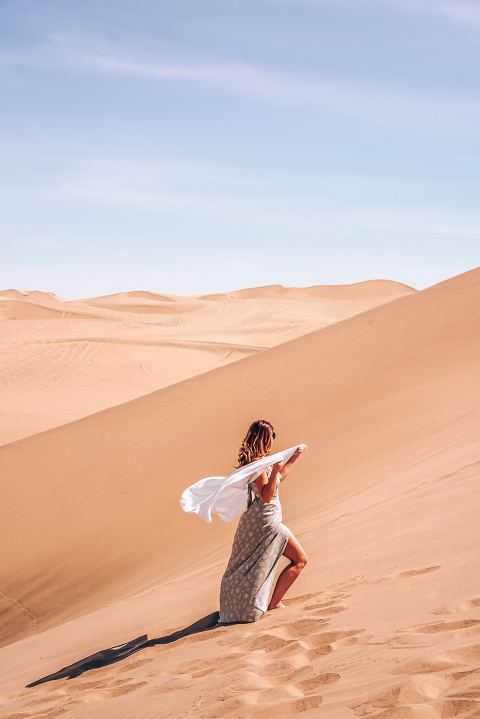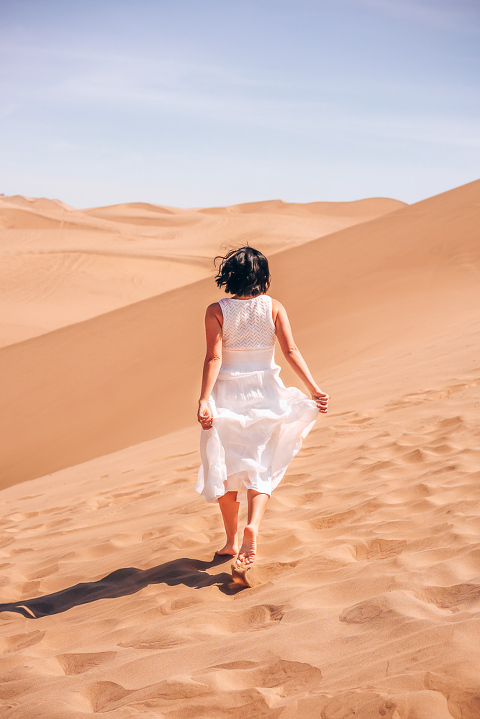 We are so glad we put Huacachina in the itinerary. It was so different than the other places we explored in Peru, like the trek to Machu Picchu, and we made some really awesome memories there. Have you visited Huacachina? Will you be adding it to your list? Let us know in the comments below!
If you're looking for other countries to visit in South America, check it out here.
Happy Travels!
Dani
PIN ME!